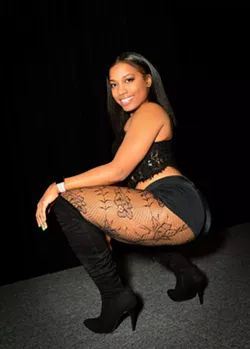 On April 20, 2003, exotic dancer Tamara Greene was killed in a drive-by shooting. Known by her stripper alias, Strawberry, Greene was allegedly a dancer at a now-famed, but never confirmed bachelor party at the Manoogian Mansion during Kwame Kilpatrick's tenure as Detroit's mayor. The mayor's wife supposedly came home unexpectedly and attacked Greene.
Investigators called Greene's killing a drug dispute, but conspiracy theorists say her murder was connected to the supposed events at the mansion.
Detroit Free Press
reporter Carol Teegardin followed the case and wrote a book called
Strawberry: How an Exotic Dancer Toppled Detroit's Hip-Hop Mayor
and this play is a reincarnation of that tome.
Showings start at 8 p.m. on Friday, Sept. 8 and Saturday, Sept. 9, and 3 p.m. on Sunday, Sept. 10. All performances take place at Adray Auditorium located at 5101 Evergreen, Dearborn. For more info call 248-660-7629. Tickets are available via brownpapertickets.com for $25.