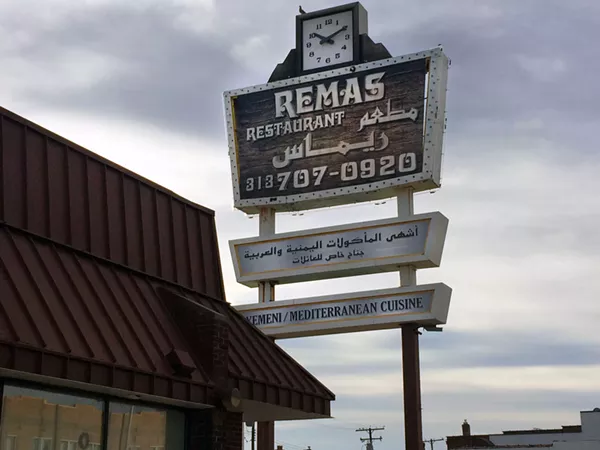 Signage is up for a new Yemeni/Mediterranean restaurant planned for the former Clock restaurant in Hamtramck.
Owner Fahmi Alfarei tells
Metro Times
its still too soon to discuss many details, but he's finishing up a full renovation of the interior that will turn it into something more upscale than it was in past iterations. Alfarei says he's hoping to open sometime this fall.
A rough draft of Remas' menu includes some Mediterranean and Yemeni standards like ghallaba that Hamtramckans might be familiar with, while other dishes – lahsah, madfoon, and buram – aren't as common in metro Detroit.
Alfarei, who is Yemeni, has lived in Hamtramck since 2005 and also runs a contracting business.
The 3,368-square-foot building sat vacant since 2013 and was on the market for as much as $400,000 at one point. City documents show it sold for $200,000.
According to Hamtramck historian Greg Kowalski, The Clock opened in the late 1960s or early 1970s. Though the dates are a little fuzzy, Kowalski and several Hamtramck officials say it closed sometime around 2009, re-opened, closed again in 2011, then briefly re-opened as a soul food restaurant, Leka's, in 2012. After that quickly closed, L. George's Coney Island opened a location in the building, but that only lasted for around one year
It also served as a temporary set for diner scenes in the now-off-the-air Detroit 1-8-7.