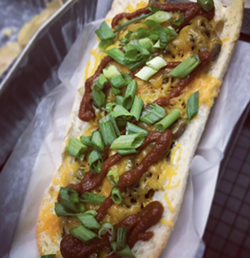 Metro Detroit pierogi-maker Erica Pietrzyk returns to the Nancy Whiskey with a full pop up dinner on Sunday.
The menu is divided into two main parts: The pierogi and zapiekanka, the latter of which isn't too dissimilar from an open-face sandwich on a baguette that's topped with all sorts of Polish goodness.
Pietrzyk's pierogi menu offers tastes ranging from the traditional like The Original (Babcia's potato and cheese) to the more inventive like The Beer Cheese (Hefeweizen beer cheese mixed with potatoes) or The Mac-a-rogi (Sweet and spicy cheese sauce made with three cheeses and macaroni noodles stuffed into a two-bite pierogi).
On the zapiekanka menu, The Polska (sautéed mushrooms and onion, topped with cheddar cheese, scallions, and ketchup) is a standard, while The Eagle (kielbasa and mushrooms topped with sauerkraut, and spicy mustard) is one for which we can vouch.
Be sure to grab a bowl of the soups – Pietrzyk's mom makes a mean dill pickle soup, and strawberry soup is served cold with strawberries, mint, and sour cream.
The dinner starts at 7 p.m. Check out the full menu that also includes dessert, sides, and all the details
here
.