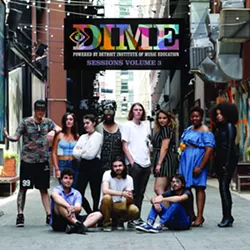 DIME artists certainly don't seem afraid to share their opinions, no matter what ire they make spark among the masses.
Earlier this year
American Idol
runner-up
Jena Irene Ascuitto
released a pro-pot track called
"So I Get High"
via 1265 Recordings, DIME's in-house label.
Now, two DIME students have collaborated to release a politically charged track called "Dear America" that begs to know when the country will finally embrace its citizens of color.
The track was written by Lex Whyms, who says this about creating the song:
"Writing 'Dear America' was my way of coping with the traumatic events that were happening in this country. It was a response to the anger and sadness people felt after the election, and police shootings that sparked the BLM movement. After the demonstrations in Charlottesville last weekend, this message is needed now more than ever."
Whyms' fellow DIME artist Devin Woodson provided vocals for the song, he says it's "a song about the past, the present and, most importantly, the hope that we as young people have for the future. It's important to expose the great divide that is still prevalent in this country. If not me, then who? If not now, then when?"
In a statement, DIME's Kevin Nixon says of the track:
"Dear America when will you love me?" sings DIME Detroit student and artist Devin Woodford on Original 1265 Recordings 3rd DIME Sessions album. On the artwork of these albums it says "the sound of young Detroit" and the song "Dear America", written by Devin's fellow DIME student Lex Whymes who also sings on the track, is a modern day hymn to the disenfranchised youth of not just Detroit but to the whole of the country. Devin and Lex are young African-American Michganders who are brave enough to take the responsibility to sing out about what really matters to them and their peers without needing bad language or violence, which means anyone can absorb this protest song. If the right ears hear it, it could rattle a few gates from the White House to Lansing and to those within who are shaping the future of the next generation.

DIME Detroit is a serious establishment here to help young people get the real deal about choosing music as a profession in a city that has been culturally ignored for decades. As you can hear across the tracks, Detroit maintains the level of astounding talent it has always had, but today the city needs it's young voices to be heard, and that's what these albums are all about... an opportunity to work at the next level and make your mark. Each year our students blow us away with their development and this years group, overseen by DIME's Elise McCoy, are reaching new heights of inspiration. Long may it continue.
The track is available via the a DIME collaboration (
Sessions Volume 3
) that's available now.
Listen to the single "Dear America" below.