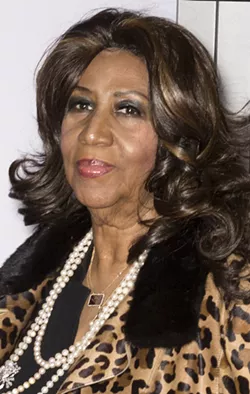 Earlier this year the Queen of Soul, Aretha Franklin, told the media she plans to
retire after releasing one final album.
Yesterday,
Franklin revealed her plans
to move from her longtime Bloomfield Hills home into a permanent residence in the city of Detroit and she's promising to open a nightclub within city limits as well.
Although the singer proclaimed her plans for retirement in February, it seems she'll still be putting in some work at this club — which will be named, aptly, Aretha's. She plans to sing at the club on occasion, according to reports.
Franklin, 75, told
USA Today
that she has been in talks with Bedrock about a possible partnership on the club, but she's still open to partnering with other investors.
As for her final record, Franklin is still working on completing it, but word is Clive Davis will serve as executive-producer on that final CD.