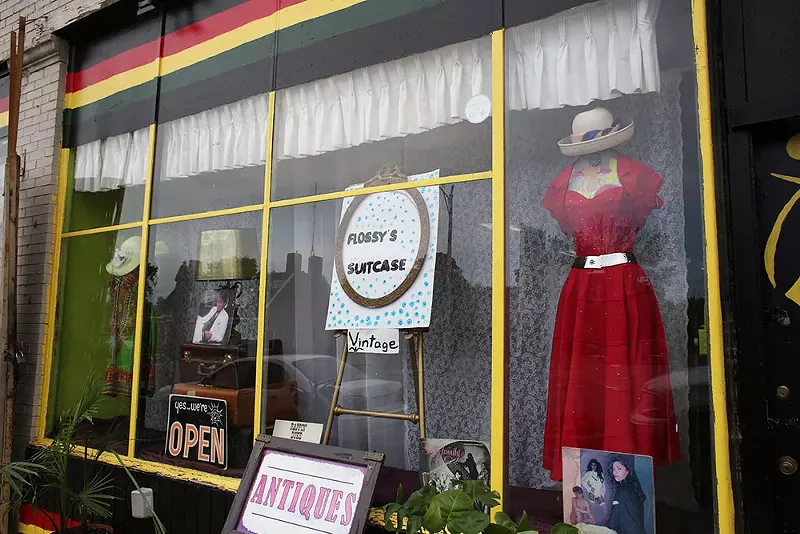 Updated: The store located at 12521 Woodward Ave., Highland Park is still open, but is no longer operating under the name Flossy's Suitcase. Store owner Lucy Frye says her stepdaughter, Ramona Dandridge, left the business two weeks ago. Dandridge will continue to operate Flossy's Suitcase through online platforms, while Frye plans to rename the brick-and-mortar business to Nandi's Resale and Vintage.
Dandridge had been running Flossy's Suitcase for the last four years, but left at the beginning of August after her father, Frye's husband, died.
Dandridge, whose online presence has continued to grow while running Flossy's Suitcase, says she lost her passion for brick-and-mortar when her father passed away two weeks ago.
"My Father was my biggest cheerleader," Dandridge tells
Metro Times
. "For him to not be here made keeping the store open even harder."
But fans of her hand selected vintage finds need not fear. She says her shop will live on via Etsy, Poshmark, and
Instagram
. She tells
MT
she will also be offering styling, and will continue to work on her photography skills.
While her father's death was the catalyst for Dandridge's departure, she says the transition was in the works for a while.
"I see people do really well online and it just stared to spiral. I found myself doing more and more stuff that didn't have anything to do with the brick-and-mortar aspect of the business," she says.
Without a storefront to tie her down, she says she plans to travel to France where a large portion of her clients live.
Dandridge, who is a self-proclaimed "DJ, techno, and house fanatic," says she stared playing her tracks by her favorite French DJs in the store and customers started to notice. After French DJ Miss Kittin started following her on Instagram, she saw more and more French orders come in.
Two weeks after leaving, Dandridge seems confident she made the right decision. "I've been busy every day," she says.