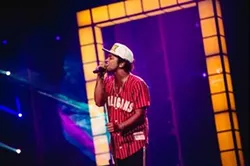 While Bruno Mars was busy uptown funking the Palace of Auburn Hills at his show on Saturday night, he also made an amazing announcement that left concert-goers stunned at his generosity.
During the middle of his sold-out show, Mars informed the Palace that $1 million from the show's proceeds would be donated to the people of Flint, MI through the Community Foundation of Flint.
'I'm very thankful to the Michigan audience for joining me in supporting this cause," Mars said in a statement. "Ongoing challenges remain years later for Flint residents, and it's important that we don't forget our brothers and sisters affected by this disaster. As people, especially as Americans, we need to stand together to make sure something like this never happens in any community ever again."
You can watch a video of Mars making the announcement at the Palace below.
Bruno Mars announcing that he will donate one million dollars to Flint, Michigan ❤️ Please RT! pic.twitter.com/Yu6LC5Vp79

— H Ī P Magazine (@HIPWEEKLY) August 14, 2017