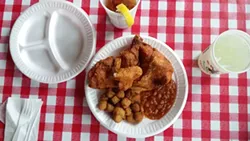 Gus's World Famous Fried Chicken will open a new 1,900-square-foot location on Woodward Avenue near 13 Mile Road in Royal Oak. It's Gus's third metro Detroit shop as two stores are already rolling on Third Street in Detroit and in Westland.
Crain's
reports that local franchisee Schmaltz Hospitality has applied for a liquor license so it can offer beer, and the project is part of its plan to open 30 stores that will largely serve the upper Midwest. The chain now has 22 locations open nationwide.
The Third Street shop quickly became a favorite local spot for its thick coated, craggily fried chicken that some say is spicy. No target date for an opening is yet available.