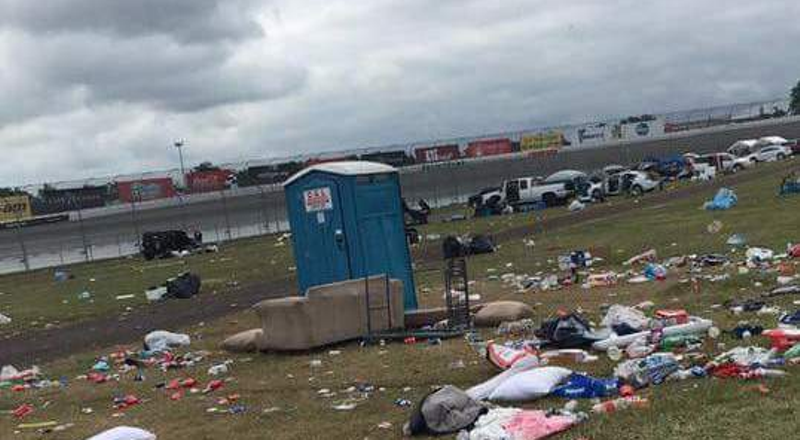 Brooklyn, Michigan's
Faster Horses Festival
ended this past Sunday after a wild weekend of camping, drinking, and lots and lots of country music. In its fifth year, the festival attracted more than 40,000 people to the Michigan International Speedway and was dubbed the #partyofthesummer.
Though while festivalgoers are plenty OK with some drunken debauchery and wild partying (because let's be honest, this happens at almost every camping music festival), they were not OK with the way some people left the festival.
Ever since the festival ended, photos have been circling social media showing the trash and debris that campers left behind.
This is Disgusting, Faster Horses.😷 pic.twitter.com/kqdbWXHoEt

— Detroit RaveChasers (@RaveChasersDET) July 24, 2017
A
petition
is calling for Live Nation and Live Nation Country Music president Brian O'Connell to introduce stricter rules and punishment to campers who leave their site a complete mess.
I am offering real solutions to change this behavior.

1. If you leave your site a mess, you will lose your presale option, thus losing your site.

2. You will no longer be able to purchase campsites in your name.

3. The person that purchased the site will be charged a campsite cleaning fee equal to the cost of the site. This penalty will also cut down on scalping as no one will want to get charged a cleaning fee for a site they didn't even use.
We reached out to Faster Horses organizers to see how they handle the clean-up of a festival after 40,000-plus people have just partied there. Festival creator Brian O'Connell told us that the festival's goal is to make the MIS site cleaner than when they got there.
"The Faster Horses staff, along with MIS makes sure that everything will and always has been cleaned up prior to the final day of us being on site," he said. "The petition brings up some interesting points and options that we will be working on prior to the 2018 edition of Faster Horses. I know the Faster Horses community, and I know that many many campers clean their sites perfectly, our job is now to educate those who don't why it is so important."
O'Connell also says that they added "additional signage, trash bag distribution, social awareness, and just plain conversation" over the years to combat some campers not being so eco-friendly.
While festivals typically have their own trash clean-up crew to combat waste, individuals outside of the festival have taken initiative to do more.
Clean Vibes
, for example, is a company that has emerged out of the recent rise of music festivals that is dedicated to cleaning up festival grounds during and after the event.
The crew started cleaning up and recycling at multi-day Phish festivals in the late '90s with much success. It wasn't until the first Bonnaroo festival in Tennessee in 2002 that Clean Vibes showed they could reduce the amount of waste at a huge music event. Today, the company does work a ton of festivals like Bonnaroo, Governors Ball in New York, and Firefly in Delaware. Since the year 2000, Clean Vibes has diverted 13,331,594 pounds of waste away from music festivals and large events.