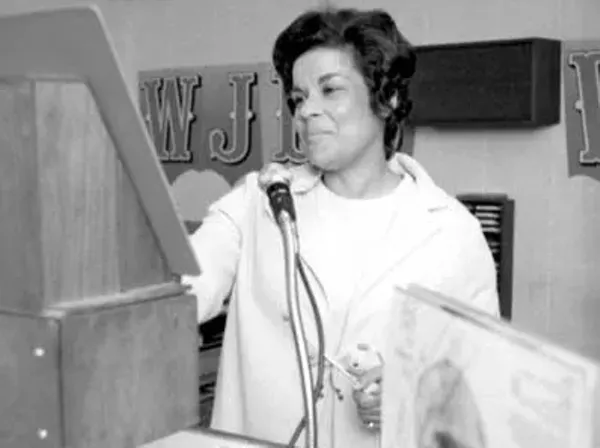 Fifty years ago for four long, hot summer days,
Detroit was in chaos
, and for 48 hours during during the civil unrest radio personality Martha Jean "the Queen" Steinberg stayed on air, urging people to go home.
"'We have to remember all the people who were great,'" Steinberg's daughter, Treina, recalls her mother saying. "'As a community we have people who are outstanding.'"
And "the Queen" was definitely one of those people.
She was a media icon that inspired people on and off the radio. Steinberg wasn't just a radio deejay, but also an activist and spiritual leader.
Treina Steinberg is continuing her mother's legacy by serving her community and making sure the stories of "the Queen" and others are told and remembered.
Born in Memphis, Tennessee, the Queen worked as a nurse and married a young jazz musician, Luther Steinberg. They divorced and as she tried to support three children, Memphis radio station WDIA — one of the first in the country to feature African-Americans on air — held a contest looking for a second female host for their programming.
"To make extra money, she started working on radio," Treina Steinberg says. "Never been on radio before, but, you know, she liked to talk, and that was how she got started. She had a knack for it."
In 1963 she made the move to Inkster after being brought in by the owners of the WCHB station. She became an instant hit.
"It was radio, so people didn't know how she looked, but when they heard her voice they just thought that she was this big, country, Sapphire-looking woman with a head rag on her head," Treina Steinberg says. "That's what they thought. But when they saw her, they were like 'Oh? She doesn't look like that at all.' Her personality was so encompassing. Everyone Queen met instantly developed a personal relationship with her. If she was sitting down with you right now, she would ask all about you, she would see what your future is going to be, and she would try to encourage you to be the best that you could possibly be.
"You would think that she really cares about you, and she did."
What made her so popular was her compassion. When she moved to Detroit's WJLB station in 1963, her program included more gospel and social commentary.
"She had a universal message and a part of that universal message was love," Treina Steinberg says.
The Queen was a working person, so when she saw people working hard, she wanted to salute them. This lead to her afternoon segment "Inspiration Time with the Queen," and her blue collar worker salute. As an activist, she would not put up with people being abused or misused and that's why she did her callouts.
Her father was also an activist — given the attitudes in the South during that time, his activism was out of necessity — Treina Steinberg says.
He taught his children to never sit back and watch someone be victimized. "Her father, my grandfather, was arrested in Memphis and in jail for two years because when he saw these two cops beating up this guy, he jumped in," Treina Steinberg says. "This meant that the family went to ruin because they had no money, but he did that because when you someone get hurt you've always got to lookout for them."
If she saw something wrong, she would step in.
That's what happened in Detroit in 1967, from trying to mediate things between her community and the "Big Four" (or colloquially: the "Big Fo,'" a group of menacing police officers that dealt out their own twisted and cruel version of justice) to staying on air for two days trying to get people off the streets when they finally erupted from the racial, economic, and social discriminations they faced regularly.
"When [the rebellion] started, it was hot and you had a lot of people who were tired of being disenfranchised," Treina Steinberg says. "You had people tired of being harassed. They raided that blind pig when they could have just went on. They didn't have to make a big deal out of it, but you had cops who were used to being in charge and doing what they wanted to do ... and it escalated."
Then the town was in flames. The community lost places like Vaughn's Bookstore, a cultural and conscious Afrocentric hub, due to fires and floods.
After a call from Father William Cunningham — the motorcycle-riding, leather jacket-wearing Catholic priest and founder of Focus: HOPE — imploring her to stay on air to quell the violence.
So the Queen did just that.
"If you don't go home, they will shoot and kill you. If you stay on the street, you will be assassinated," the Queen said.
The Queen stayed on message for two days.
"And that was a big deal," Treina Steinberg says. "It had to take somebody like Queen, who people trusted — she wasn't a politician, but she knew politics, she wasn't a businesswoman, per se, but she knew business. Her thing was a service of people."
The Queen also got a call from DeVon Cunningham, a well-known local artist, sculptor, and activist. The police had some Black Panther members held up in a house on the west side. So she went, even though there was a press blackout and every kind of city, state, and federal authority was surrounding the little house.
"Usually the guys that were in the Black Panthers — it was really a social network thing because they did free breakfast, education, and a lot of community enhancements — were college students or activists," Treina Steinberg says. "She saw them as potential. She could not watch those young men be slaughtered, so she went in there and said she was going to bring them out."
It was a standoff.
"They're going to shoot us, Queen," the young men said.
"No. They are not going to shoot you," the Queen said. "They've got to shoot me first."
They trusted her. She brought them out. And when she came out, the people watching from outside the police circle cheered. They got arrested, of course, but they were alive.
After the rebellion ended, there was a rise in activism and civic engagement. As New Detroit and Focus: HOPE got started, the Queen took her services over to Grand River, minutes from where the unrest started on 12th Street and Clairmount Avenue.
She started her nonprofit The Queen's Community Workers (originally the Blue Collar Association of America, until the FBI thought they were a communist group and harassed them to change the name) along with buying and leasing apartments for retired and working people who couldn't afford much, as well as founding the church The Order of the Fishermen Ministry.
Her salute to the working people, her connection to the community, and her faith in the city's spirit shouldn't be forgotten — especially during a historic and bleak moment in Detroit's history.
"It's [remembrance] a personal thought and something that Queen was very in tune with," Treina Steinberg says. "It's a part of our history in Detroit. If we don't remember our history, then we don't have a history."
Skyler Murry is an editorial intern at
Metro Times
.