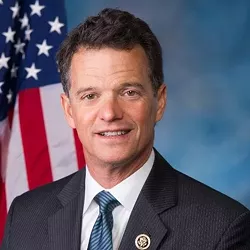 With the first known female genital mutilation prosecutions in the U.S. playing out in federal court in Detroit, a local congressman is advocating for stiffer penalties for the practice.
A bill introduced today by Rep. Dave Trott (R, MI-11) and a New York congresswoman would up the federal penalty for female genital mutilation from five years in prison to 15. The act dubbed SAFE, or Stopping Abusive Female Exploitation, would also push states to create reporting requirements for suspected cases of female genital mutilation.
100 female genital mutilations
on young girls out of a medical practice in Livonia.
"We must protect our girls, and this legislation increasing the federal penalty is critical to eradicating this barbaric practice from our communities," said Trott in the release.
The local doctors and affiliates charged in the case are members of the Dawoodi Bohra Muslim sect. Dr. Jumana Nagarwala is accused of performing the genital cutting procedure on at least six girls — four of them from Michigan. She has admitted to removing membrane from the girls' genitals as part of a religious custom, but says there was no cutting involved.