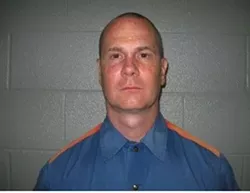 Michigan's longest serving nonviolent juvenile offender "White Boy" Rick Wershe Jr. was
granted parole today
after the Michigan Parole Board voted in favor of Wershe's plea for freedom.
Wershe was just 17 when he was sentenced to life in prison without parole for a drug conviction. Wershe is now 47 and could be out of Michigan prison by August.
Wershe was given the nickname "White Boy Rick" when he was arrested at 17 years old for selling drugs. He was convicted of possessing more than
650 grams of cocaine
in 1988.
MT
's Michael Jackman wrote this about Wershe a few years back:
He was also an underage informant to police; Wershe says after feds cut him loose, law enforcement characterized him as one of Detroit's most notorious drug dealers. The media ran with the story, portraying him as a dangerous criminal. In the midst of a sort of national hysteria about drugs, the court threw the book at him: For his first offense, a nonviolent one, he was sentenced to life in prison.
Michigan's Constitution has changed since Wershe was convicted and no longer allows minors to be sentenced with life in prison without parole. This is how Wershe was able to apply for parole and get released.
There is currently a film being made about the life of White Boy Rick with Matthew McConaughey and
was filmed this spring in Cleveland
.