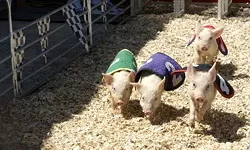 The cities of Ferndale and Royal Oak each requested barbecue festival organizers shut down piglet races scheduled to take place during their events this month.
Several weeks ago, the organizers of the Brews, BBQ, and Bourbon festival cut the piglet races after it came to light that they hadn't secured the proper permits. Now the city of Royal Oak appears to have asked the organizers to remove the event at this weekend's Michigan RibFest as well.
The effort was led by several animal rights' activists who are only associated by their membership to the same vegan Facebook page. Though it's a small victory, it's meaningful — victories for animal welfare in the U.S. in 2017 are scarce.
The race — something similar to what's
seen in this clip
— consists of several pigs running in a circle around a short track made of fencing and astro turf, and it seems to be an increasingly popular form of entertainment at county fairs around the country.
Molly Tamulevich is a board member with Attorneys for Animals and one of the activists who urged the Royal Oak City Commission to cancel the event. She points out that scientific evidence shows — and it's not hard to see — that "pigs and most animals are individuals who have a need to avoid harm, and avoid death and pain."
"So regardless of how their life ends, they do have an interest in their own quality of life, and if they could choose not be in pain or not perform certain behaviors, they probably would," Tamulevich says. "We're their stewards and we have an obligation to reduce their suffering."
Mary Sarsfield is a former pig owner who's familiar with their behaviors. She notes that they're afraid of loud noises, and believes being surrounded by crowds cheering over a person screaming into a microphone is a terrifying experience.
Pigs are also stubborn — the term "pigheaded" exists for a reason — and won't race without serious coercion. She adds that they're considered to be as intelligent as a three-year-old child and have a strongly developed sense of family, and for those reasons she's concerned about training methods.
"You have to wonder what goes on behind the scenes," she says. "You see a bunch of cute pigs running in the fresh air ... but what goes on when the show is over?"
Megan Marcoux, an activist who voiced her concerns with the city of Ferndale, also argues that piglets are highly intelligent, sensitive animals, and they're not having fun.
"They become quite stressed when they are put in the midst of large, noisy crowds and subjected to frequent transport," Marcoux says.
She adds, "I don't think anyone participating in the races has bad intentions — I just don't think they really know or understand pigs. It's not fair to subject any animal to stressful conditions for our own amusement."
Of course, the racing is part of a larger event in which people eat pigs that were probably raised in inhumane conditions on a factory farm and killed in an awful way, so why get worked up over a piglet race, which seems harmless in comparison?
Tamulevich acknowledges that it's not the most pressing animal welfare issue at the events, but trying to shut down a barbecue festival in the middle of summer isn't a good idea. She adds that the races are "in poor taste" and something that's easier to address.
"If we act on a small issue and bring awareness to it, then there's a chance to get people thinking ... and piglet races are something different that not everyone is on board with," Tamulevich says.
"The way we treat the most vulnerable among us - animal or human - says a lot about us ... and I don't think that it paints our community or species very well to be entertained by the fear of someone less powerful than us."

Marcoux adds that it's a starting point.


"I think most people would agree that animals should be treated with kindness. Once we align on that level, once we agree that animals deserve to live free from suffering, we can begin the discussion of whether we should be taking their lives for meat we don't even need," she says.