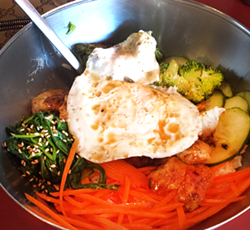 A new Kosmo location is slated to open in July in downtown Ann Arbor.
MLive
reports that Kosmo's Bop Shop will specialize in bibimbop and target the dinner and late night crowds, which is a slight change of course from the first location in Kerrytown.
The restaurant will seat about 40 people, and owner Don "Kosmo" Kwon's customers can watch as their meal is cooked on a 6-foot flattop grill. Instead of table service, people will write their orders on a short menu and hand them to employees to take to the chef. Bowls will run in the $9 range.
Bibimbop is a Korean white rice-anchored dish that's topped-then-mixed with protein like beef or a fried egg; sautéed, pickled, or raw vegetables; and different sauces or pastes.
"The fun part of it is finding your mix," Kwon tells
MLive
. "Every ingredient will be cooked to order. It's the ultimate dish."