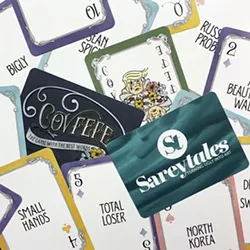 Sarey Ruden
is making a name for herself, and she's using name-calling to do it. The local graphic designer uses the strange, profane, and sometimes insulting messages she receives on dating apps to craft stylized images using bubbly typography.
The art, born from the often brutal messages, is her way of transforming ugly into beautiful.
Now, she's at it again, but this time the internet troll she's taking on is a whole different animal. That animal is the President of the United States.
Inspired by President Trump's recent twitter typo, she's crafted a new card game called simply, "Covfefe" and it's
available for purchase on Esty right now
.
The deck comes with 52 cards, each of which is emblazoned with a Trump or Trump Administration catch phrase ("total loser," "bigly," "alternative facts," etc.), Trump-related person (Sean Spicer), or Trump-related place (Gina, Russia, North Korea).
According to the Etsy product description, "the deck is full of unique hand drawn designs, but follows the same rules as a traditional deck of poker cards, so you can still play all your favorite card games, or make up new ones with these funny Trumpisms."
The deck is $30 and can be shipped worldwide.