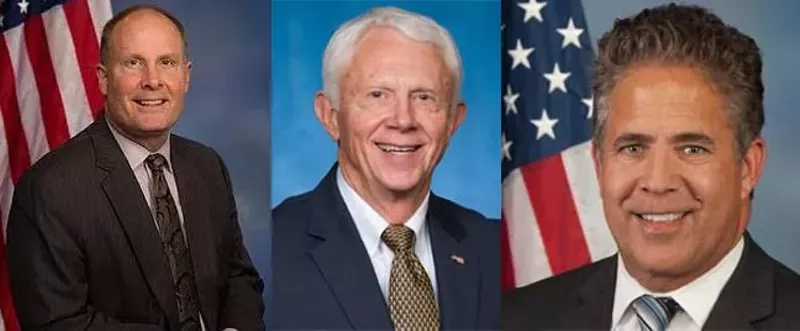 According to multiple reports, a gunman opened fire at a GOP charity baseball team practice early Wednesday morning in Virginia.
Three Michigan congressmen were present and have all been reported safe, according to
WDIV
. Reps. Mike Bishop (8th District), Jack Bergman (1st District), and John Moolenar (4th District) were all in attendance.
Rep. Mike Bishop tweeted out to his followers this morning that a "lone gunman" was opening fire on members of Congress and several people were down on the ground.
Charity baseball practice this AM when a loan gunman open fired on members of Congress and security. Several down - please pray for them.

— Mike Bishop (@RepMikeBishop) June 14, 2017
Rep. Jack Bergman also tweeted this morning that he was safe.
I was on scene, but I'm blessed to be safe, and I want to thank the security forces who were so quick to respond. They're the heroes here.

— Rep. Jack Bergman (@RepJackBergman) June 14, 2017
We're learning more about motive, but this is a good time to reflect on division and unity. We're all human. We're more the same than not.

— Rep. Jack Bergman (@RepJackBergman) June 14, 2017
This morning, Rep. Moolenaar attended baseball practice. He was uninjured in the shooting. Please keep those injured in your prayers.

— Rep. John Moolenaar (@RepMoolenaar) June 14, 2017
Rep. Dan Kildee (5th District) was also at a baseball practice this morning, but on a different field.
At baseball practice on another field when we learned of this terrible news. Praying for @SteveScalise, staff & Capitol Police who are shot. https://t.co/gjAnaJr0nL

— Rep. Dan Kildee (@RepDanKildee) June 14, 2017
Kildee said in a statement that he is "deeply saddened be the horrific shooting at the Republican field during congressional baseball practice. This morning's violence is absolutely senseless."