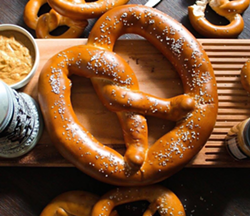 In November 2015, SPIKE TV's "Bar Rescue" made a visit to the then-struggling downtown Ann Arbor bar, The Arena. Unfortunately, they didn't send any tax attorneys.
Within months of the show airing, The Arena would be closed and its colorful owner, Brian "Mike" Flore - who was painted as something of a jerk during the episode - was charged for collecting around $700,000 worth of sales tax that he never paid to the state over a 10-year period. That led to a five-year prison sentence last July.
Not long after The Arena closed, The Curtain Call opened in the spot, at 201 and 203 E. Washington St., but it didn't really feel much different than its predecessor. Now, the owners are taking the space in a new direction.
The next concept, called the Haymaker Public House, will be unveiled on June 19,
MLive
reports. Unlike The Arena and Curtain Call, food isn't an afterthought, co-owner Mark Adams says, and the menu is an original combination of sliders and carnival/state fair food-inspired items.
A slider menu features 15 options that range from the standard burgers to the more inventive varieties like The Vietnamese Chicken with lime, lemongrass, ginger, shallots, greens, and balsamic onion jam; or The Ryder Slyder with beef, cream cheese, crushed pineapple, and jalapeno.
On the "carnival food" part of the menu, you'll find waffle batter cheese curds, a giant one pound pretzel, and pickle fries. See the entire menu
here
.
"The rest of our food, maybe not intentionally so, has been inspired by a state fair or carnival with a lot of cool, sharable things," Adams tells
MLive
.