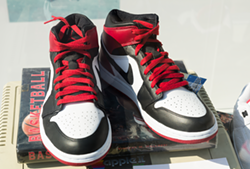 It has happened again in Detroit: a young man has killed another young person for a desirable and expensive item. We've seen it happen over the years with
Cartier glasses
. This week, it was a pair of Air Jordans.
Donte Ford, 20, was charged with murder Friday for killing Corey Harris Thomas, 17, from Grosse Pointe Woods. The two had arranged to meet up this week via Craigslist in order for Thomas to sell Ford the shoes. They linked up in the early afternoon Tuesday near Fenkell and Wyoming, between the city's Fitzgerald and Grandmont-Rosedale neighborhoods.
But instead of buying the Jordans as planned, the Wayne County Prosecutor's office says Ford got into Thomas' SUV and pulled out a gun to try to take them. Thomas had brought a 24-year-old friend along for the meeting, and that man allegedly pulled a gun as well. A tussle ensued inside the vehicle, with everyone winding up shot and the car crashing. Ford and the 24-year-old were injured and Thomas was killed. Authorities say it was Ford that that fired the deadly bullet into Thomas.
This was Ford's second planned robbery of the day, according to the prosecutor's office. He'd earlier met up with a 16-year-old in the same area to buy another pair of Air Jordans. Ford allegedly robbed that teen at gunpoint.
Ford will be arraigned on the murder charge Saturday. He's also charged with armed robbery, assault with intent to murder, and felony firearm.