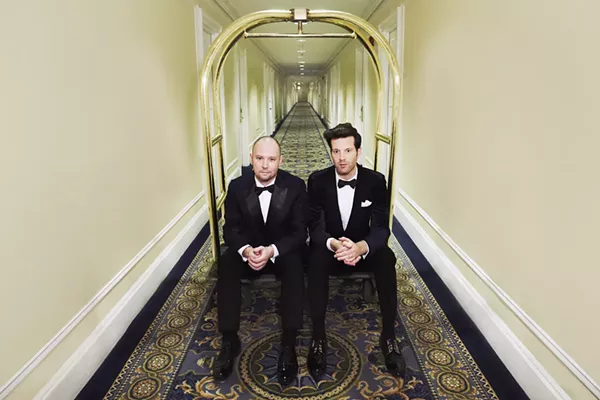 In 2006, DJ Haircut (soon to be Mayer Hawthorne, but born Andrew Mayer Cohen in Ann Arbor) started exchanging mixtapes with his crate-digging compatriot, the Seattle-based hip-hop producer Jake One (who would later work with the Weeknd, Drake, and Royce da 5'9"). The two bonded over their mutual love of post-disco boogie, electro funk, and West Coast hip-hop — things you would regularly hear the Electrifying Mojo spin back in the day. The mixtapes led straight into their homage to these classic sounds with their collaboration as Tuxedo, who just released their sophomore album, Tuxedo II (Stones Throw) this past March.
What makes Tuxedo so irresistible is the dichotomy between the stripped-down simplicity of the grooves paired with the outrageously tight production that accentuates them. The lyrics might be simple paeans to dancefloor and between-the-sheets joy, but the jams are lush with electro bass lines, keys, tight horns, vintage synth flourishes, and singalong choruses. Just like their onstage style and band name, their songs are flashy but classy.
Metro Times caught up with Jake One and Mayer Hawthorne while they were on tour in NYC last week, in advance of their first-ever area shows — Saturday, June 10 for Detroit Music Weekend, and on Thursday, June 15 for Sonic Lunch in Ann Arbor.
Metro Times: Detroit Music Weekend is another indication that the city as a whole is beginning to appreciate its own amazing musical past and present, in much the same way that the rest of the world already does. What else do you think the city could do to take advantage of its great music scene?
Mayer Hawthorne: One of the things I was always frustrated with in Detroit was that local radio didn't support the scene. Terrestrial radio is (unfortunately) still so important. I'd be in the record stores every day and DJing or hanging in the clubs at night, and all everyone was buying or talking about was Detroit's own Slum Village. But the radio never played them. They never played Eminem until he signed with Dre and went to California.
MT: Are there any unsung Detroit soul artists past or present who you'd like to see on next year's Detroit Music Weekend bill?
Jake One: I would love to see a Lamont Dozier show, with him performing his solo material on ABC from the mid '70s.
Hawthorne: Wow, that would be epic. I would add Dennis Coffey and a DJ Assault/Ade' Mainor reunion!
MT: Tuxedo would have fit just as well at the Movement Electronic Festival; how does classic techno fit into your influences?
One: Yeah, I think all dance music that came before us plays a part in our sound. A lot of the '80s West Coast rap I grew up on — such as Egyptian Lover — was heavily influenced by techno.
Hawthorne: Hell yeah, I'm waiting for some new ghetto house artists to sample Tuxedo and pitch us up to 135 bpm. Jit jit jit jit!
MT: How do you translate your studio creations to the live stage?
Hawthorne: It's really an experience. Even some of my close friends were like, "Damn, that was different." We work really hard at it, reviewing and revising every night to make it the best show possible. It's a show, not a concert, and every song transitions into the next like a DJ set. So the dance party never stops.
MT: Despite living a thousand miles apart, you two make a point of getting together to work on music in person. Is Tuxedo III already in the works as a result of this current tour?
One: We've worked on a couple ideas so far. When we have some days off, I'm sure we will really get into it.
Hawthorne: We wrote a lot of the second album on the last tour. We just joke around and make up silly ass ideas 24 hours a day. And some of them end up turning into songs.
Tuxedo performs on Saturday, June 10 for Detroit Music Weekend, at the Music Hall; Starts at 9 p.m.; 350 Madison Ave., Detroit; musichall.org; Tickets start at $80 plus fees. Tuxedo also plays on Thursday, June 15 for Sonic Lunch at noon at Liberty Plaza; 255 E. Liberty St., Ann Arbor; soniclunch.com; free.