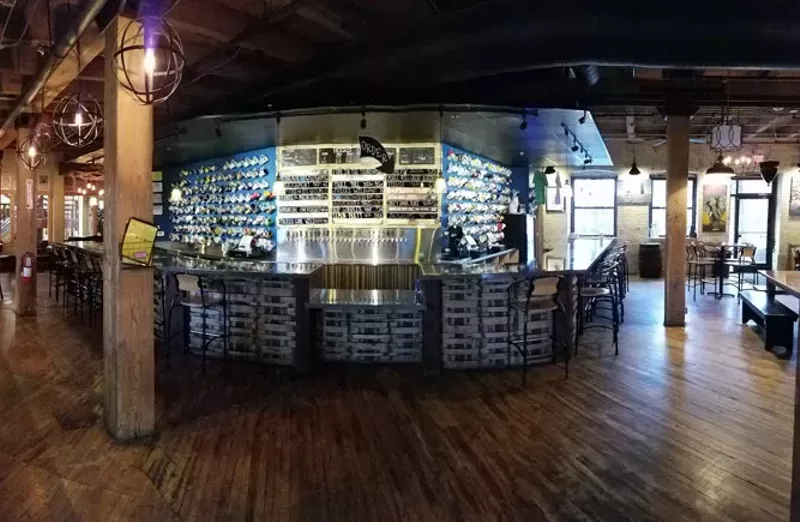 Jack's Waterfront Bistro + Bar
940 W. Savidge St., Spring Lake; 616-846-1370
In addition to delicious entrees, this waterfront restaurant has an outdoor tiki bar where you can enjoy their signature Rum Bomber or indulge in their happy hours at various times during the week. Jack's hosts a comedy night every Thursday and live entertainment on the outdoor deck during the warmer months.
Webber's Waterfront Restaurant & Lounge
6339 Edgewater Dr., Erie; 734-723-7411
For more than 30 years, Webber's Waterfront Restaurant has been owned and operated by the Merryman family. Facing the Ottawa River, right on the edge of the Michigan and Ohio border, Webber's offers drinks such as Electric Lemonade and Cucumber Lime Clamdigger. If these mixed drinks aren't for you, you can still sit on their outdoor patio, sip on sangria, and listen to live music on Sundays.
Bil-Mar
1223 S. Harbor Dr., Grand Haven; 616-842-5920
With its spectacular views of the beach and Lake Michigan, this is the perfect restaurant and bar to visit. The Pirate's Den Cocktail Lounge, located inside the restaurant, offers a wide selection of beer, wine, and mixed drinks, ensuring there is something everyone will enjoy. I mean, what is better than a Pineapple Upside Down martini?
Mermaid Bar and Grill
340 Water St., Saugatuck; 269-857-8208
Bask in the summer sun on the patio overlooking the Kalamazoo River while perusing an eight-page drink menu filled with draft beers, an assortment of wine and Mermaid signature tiki cocktails served in a pineapple shell.
Gull Landing
438 S. Hancock St., Pentwater; 231-869-4215
Sitting on the edge of Pentwater Lake, Gull Landing has a large outdoor patio with live entertainment throughout the summer. With martinis, Moscow mules, and bottled and draft beer, this is a great place to visit with a group of friends and enjoy a warm summer night.
Snug Harbor
311 S. Harbor, Grand Haven; 616-846-8400
In the heart of downtown Grand Haven, this restaurant has a rooftop deck bar with a large selection of wine and assorted drinks that overlooks the Grand River. After a long day on the water, this rooftop bar is a great place to relax, but still ensures that you are part of the action.
Odd Side Ales
41 Washington Ave., Suite 160, Grand Haven; 616-935-7326
This brewery, while a block or two from the waterfront, is still in the heart of downtown Grand Haven and an intriguing place to stop for a drink after a day at the beach. Odd Side Ales has a wide variety of beers on tap and and events happening weekly such as trivia, $5 stein fill, and live music.
Dockside Dan's
94314 Sister Lakes Rd., Dowagiac; 269-424-5434
Located on County Road 690, this lakeside restaurant and bar is a little off the beaten path, but one you need to visit. After a day on the lake, you can park your pontoon right in front of the restaurant, grab a beer on tap, and listen to live entertainment on the patio overlooking the lake.

Rivers Edge Bar and Grill
653 W. Main St., Benton Harbor; 269-925-6151
This quaint bar and grill sits on the corner of the Paw Paw and St. Joseph rivers. With an outdoor patio and delicious food and drinks, this is a great stop to make.
The Beach Bar
3505 Ocean Beach Rd., Clark Lake; 517-529-4211
While this bar is not directly on a beach, it does have amazing views of Clark Lake and enough beer and specialty drink options to make you feel like you are on a beach. With live entertainment on the outdoor patio all throughout the summer, be sure to arrive early to snag a table for your friends in front of the stage.
The Deck
1601 Beach St., Muskegon; 231-755-5022
In the middle of Pere Marquette Park, this Muskegon restaurant and bar is open for the summer. With breathtaking views of Lake Michigan, live music, and a location steps away from the beach, this BBQ and beer joint is a great place to take a break before going back to play.
Village Cafe and Pub
347 S. Hancock St., Pentwater; 231-869-4626
Enjoy a laid back meal on the outdoor deck and then head to the Village Pub for comedy nights, live music, and happy hours. This underground pub in the heart of Pentwater is somewhere different to take your friends for a beer, a game of Foosball, to catch the game, or do some dancing.
The Cove
111 River St., Leland; 231-256-9834
This waterfront restaurant has a large outdoor patio right on the bustling Leland Riverfront and a variety of beers and specialty drinks to choose from at the tiki bar.
River Street Station
350 River St., Manistee; 231-723-8411
River Street Station is in downtown Manistee and minutes away from the beach and Lake Michigan. This restaurant and bar has a huge selection of beers on tap and daily drink specials. Sit on the patio with ivy-covered walls and watch the boats pass on the river, all while enjoying a cool drink.



Jolly Pumpkin

13512 Peninsula Dr., Old Mission Peninsula, Traverse City; 231-223-4333

As a restaurant, brewery, and distillery, Jolly Pumpkin is a classic place to stop at while visiting Traverse City. It is in the middle of downtown and it's even kid-friendly. The brewery also has locations in Detroit and Ann Arbor, as well as a Dexter Tap Room.
Thumb Brewery
6758 Pine St., Caseville; 989-856-1228
Thumb Brewery is in downtown Caseville and minutes away from the beach. The brewery has quite a list of beers and wines, which means there's something for everyone. Located in an 1800s historic home, the little brewery features an open patio with a view of the town.
Village Pub
7318 Huron Ave., Lexington; 810-359-2200
The Village Pub of Lexington is right up the hill from the State Harbor and serene beaches of Lake Huron. In addition to a large selection of drinks on tap, the pub has open mic nights, karaoke, and live music. A great location next to the shops make it a great place to grab a beer and watch the game.
The Lake House Waterfront Grille
730 Terrace Point Blvd., Muskegon; 231-722-4461
This waterfront grill offers chilled martinis, and classic and new cocktails. They have a wide selection of food, on top of their beautiful waterfront views. Located next to Terrace Point Marina in downtown Muskegon, the outdoor patio is an ideal location to watch the sunset and sip an after-dinner drink.
Bridge Street Tap Room
202 Bridge St., Charlevoix; 231-437-3466
Situated between Lake Michigan and Round Lake, this tap room is in the perfect location in downtown Charlevoix. In addition to a patio that overlooks the lake, they offer 32 beers and ciders on tap, as well as other wine and specialty drinks.
Jerry's Pub and Restaurant
650 Egan Hwy, Brooklyn; 517-467-4700
Jerry's Pub is the local restaurant on Wampler's Lake in Brooklyn. Sip on a drink after ordering delicious appetizers and watch the beautiful sunset over the lake. Once the sun goes down, Jerry's has live music throughout the week.