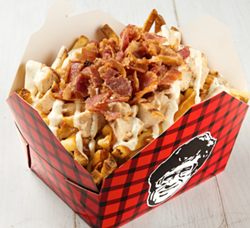 The
highly anticipated
Smoke's opened its doors on Monday on South University Street in downtown Ann Arbor.
Poutine - a Canadian dish that's a jumbled mound of fries, gravy and cheese curds - is suddenly fashionable south of Canada's border, and the new poutinerie is one of very few in southeast Michigan.
Smoke's is a Canadian franchise with 81 North American stores that built out the former World of Beer space and features a restaurant offering customizable poutine entrees, along with a very Canadian-named bar - The Beaver Trap.
The latter will have 40 beers on tap.
As we previously reported, Smoke's demonstrates that you can mix in just about anything with fries, gravy, and cheese curds, and it (could) be good.
On the weirder end of the spectrum, you'll find Korean Poutine with flatiron steak, sambal, Korean barbecue sauce, and green onions. Or the Steak, Beans N' Weenies with flatiron steak, baked beans, and weenies. Or the Perogy Poutine with pierogies, sour cream, and bacon.
There is, of course, also the more standard options like the Smashed Traditional with Smoke's signature gravy and Quebec cheese curd. For vegetarians, Smoke's offers a list of items like the Rainbow Poutine with guacamole, sriracha, sour cream, and cheese sauce.
Check out the website
here
. Smoke's is located at 1300 S. University Ave. in Ann Arbor. Word on the street is that another location
is in the works
for Detroit's Cass Corridor.