Yama, a sister store to Peacock Room and Frida, will open on the first floor of the Fisher building this fall, according to a press rel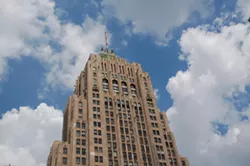 ease.
Rachel Lutz, who owns the Peacock Room and Frida, will open the store in partnership with a real estate group called The Platform.
"People ask me how the three stores will differ. The Peacock Room is for women inspired by vintage classics. Frida is for today's woman. Yama will be our sister store of the future," Lutz said in a press release.
Yama's namesake is Minoru Yamasaki, a scion of mid-century modern design. The store's stock will therefore be predominately architecturally-inspired, edgy fashion and accessories for the modern woman. Like Lutz' two other stores, it will carry sizes 00 through 26 as well as a variety of price points, making it accessible to all kinds of women.
"As we work to bring new office tenants and residents to New Center, we want to bring the neighborhood more first-class shopping options. Rachel's ability to use her sense of style, innovative targeted marketing and one-of-a-kind merchandise are perfect for the Fisher Building's rebirth as a go-to place for retail," Peter Cummings, co-principal of The Platform, said in a press release.
This announcement comes on the heels of a recent and
rapid expansion of Frida
, which Lutz announced would double in size in order to accommodate more foot traffic due to the QLine.