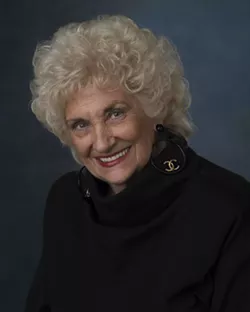 The woman behind Olga's Kitchen, Olga Loizon, turns 91 today, and the franchise she created from the ground up is celebrating with Snackers, Snackers, and more Snackers.
In addition to a cinnamon-sugar Snackers windfall for Olga's customers, the Royal Oak location will also premier a special video for Olga and serve a cinnamon-sugar Snackers cake in addition to other birthday activities. The party is this afternoon from 2 p.m. to 4 p.m.
Guests can bring a birthday card for Loizon to any Olga's location to receive a free order of cinnamon-sugar Snackers.
Other ways to participate: Share an Olga's Kitchen memory on Facebook or Instagram and tag @olgaskitchen for a chance to be selected as a VIP guest at Olga's b-day party.
If you're currently off Snackers, but would still like to celebrate, you can visit any of the restaurant's 26 locations for two free side items with any purchase, such as a small Olga salad, side curly fries, cup of peasant soup, or a cup of broccoli soup. The offer is only valid today for dine-in guests.
Olga's Royal Oak is located at 30332 N Woodward Ave., Royal Oak. For info on other Olga's locations
click here
.