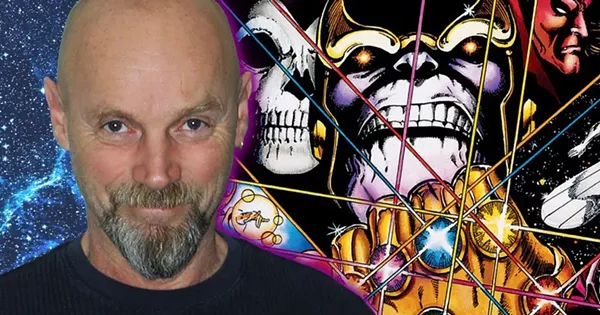 This story begins with a coincidence so strange that it seems like a plot contrivance: Two students at Norup Middle School in Oak Park not only graduated together from Berkley High School in 1967, but both went on to move to New York and become longtime Marvel Comics veterans: Jim Starlin and Al Milgrom.
"I'd come up to him and want to talk about comics," Milgrom recalls of his middle-school days with a laugh. "He'd shush me and say, 'Call me at home.' He was a closet comic book fan — he didn't want his friends to know."
That secret, it's safe to say, is out now.
After all, this week, the products of their work will be splashed across the big screen from coast to coast, with the debut of Guardians of the Galaxy Vol. 2 on Friday, May 5. The eagerly awaited sequel features the return of such obscure and oddball characters as a talking raccoon with big guns, a powerful tree-like creature named Groot, and Star-Lord, a space rogue who enjoys listening to classic rock on his Walkman.
Fifty years ago, while the Vietnam War was still raging, it seemed Milgrom and Starlin were headed in separate directions: Milgrom enrolled at the University of Michigan, Starlin enlisted in the U.S. Navy. But it wouldn't be long before they were back in the same world, in the Big Apple, breaking into comics in 1972.
"I found that the artist market was expanding in comics," Starlin says. "Marvel was going from something like eight books a month to somewhere in the 20s. As a result of this expansion, Marvel in particular was hiring anyone who could hold a pencil. That's how I got my first job there. I called Al and told him to come out and give it a shot. He did and started [at DC]."
That DC gig led to the duo's first collaboration, a Gray Mouser story they drew for DC, which in turn led to Milgrom inking Jim Starlin's work on Captain Marvel."
"Jim's one of the most creative, innovative guys in the biz. He's a proven commodity," Milgrom says. "Captain Marvel was in danger of being canceled, but the sales increased under him. ... He's a great example of how someone can be creative, unique, and still be commercial."
In 1973, Marvel debuted what would become Starlin's most famous creation, Thanos, a major Marvel villain. Starlin had dreamed up the character a couple years earlier while studying at Oakland Community College, though it was given some tweaks by Marvel editor-in-chief Roy Thomas, who bulked him up to look like DC galactic tyrant Darkseid.
The list of comics the two have worked on is impressive. Milgrom's work as an artist, writer, and editor encompasses Marvel's Incredible Hulk, Avengers, and Spider-Man. Starlin's writing and art credits include Marvel's Strange Tales, Warlock, Silver Surfer, and Dreadstar, as well as numerous Thanos stories, where he really found his niche spinning space operas. Together they worked on The Death of Captain Marvel, The Infinity War, The Infinity Crusade, and more.
You'd expect Milgrom and Starlin, now both 67, to be mostly on the convention circuit, but Starlin remains active. In fact, he's working in synergy with Marvel, writing Guardians of the Galaxy: Mother Entropy — scheduled for release this week to coincide with the movie sequel — as well as three upcoming original graphic novels featuring Thanos.
The Guardians saga began in 1969, in Marvel Super-Heroes No. 18. Set in the 31st century, the tale concerns distant planets colonized and subsequently wiped out by an evil race called the Badoon. Each Guardian was the last survivor of their home planet. They eventually graduated to the main feature in Marvel Presents in 1976 and 1977, one of Milgrom's earliest illustration assignments at Marvel — work that has been republished in a prestige hardcover format twice in the last decade.
"It was a very weird cosmic-super-hero-slash-science-fiction concept," Milgrom recalls. "It was such a weird and wonky strip [with] its own cult following. ... It was offbeat. It wasn't just these superhero punch-'em-ups that had been brilliantly done by Stan Lee and Jack Kirby. These things had more of a 1960s, 1970s bent, a drug-addled quality to them."
Starlin admits he's amazed Thanos made it onto the big screen at all. Thanos made his first full appearance in 2014's Guardians of the Galaxy, and appeared after the credits in 2015's Avengers: Age of Ultron, donning the Infinity Gauntlet and setting the stage for 2018's Avengers: Infinity War. "I always thought his stories were just too weird and esoteric to become insanely popular," Starlin says.
Fortunately, he says, Avengers director Joss Whedon and Marvel Studios president Kevin Feige "didn't share that outlook."
The two have been impressed by their characters' big-screen portrayals: Starlin praises Zoe Saldana's performance as Gamora, and says Dave Bautista's Drax the Destroyer "was the big surprise of the movie for me. He turned out to have great comedic timing."
Milgrom has been pleasantly surprised as well, and says the film version of Guardians was a risk that paid off.
"Mostly [Marvel was] doing characters that were better known," Milgrom says. "Many thought Iron Man was a gamble when they put that out. But to come out with ... a set of characters nobody outside comics fans knew as a major motion picture was really bold on Marvel's part.
"It's astonishing these relatively unknown — maybe even lesser characters — have become a major success in the movies. Marvel was aware they were taking a big chance on this because these weren't their well-known characters, yet they hit it out of the park. It was a huge hit!"
Starlin agrees, calling Guardians "a terrifically entertaining movie with a first-rate cast. Just watch it again sometime. You can't help having a stupid grin on your face most of the way through."
Guardians of the Galaxy Vol. 2 opens at area theaters Friday, May 5.
Guardians of the Galaxy cast members Michael Rooker and Sean Gunn will apear at the Motor City Comic Con, which takes place May 19-21, at the Suburban Collection Showplace, 46100 Grand River Ave., Novi; motorcitycomiccon.com.