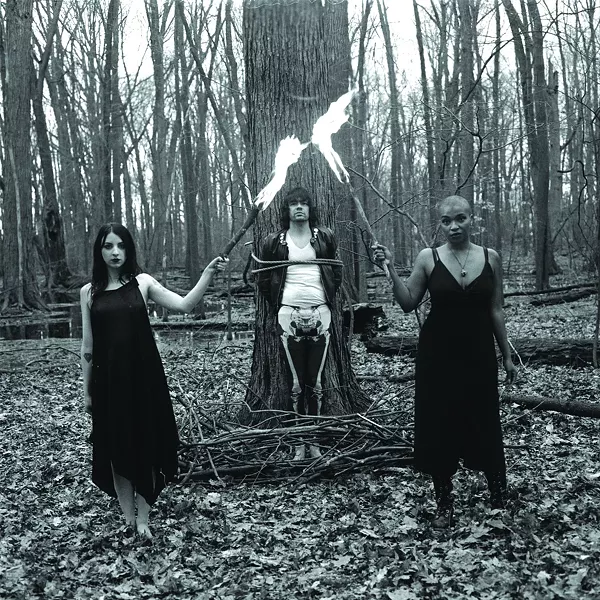 We make no mistake about
our love for the Pretty Ghouls
; they're simply one of the best live bands around. The other week, they sent us the best promo package we might ever have gotten (image below), including the two limited-edition 7"s that they're
playing a release party for, Saturday, April 29 at UFO
. It's also the only show they have planned for the entire year, so you have no excuse not to attend.
Metro Times
: How are you guys? What's up?
Asia Mock
: Not much ya know? Just living in these strange times.
TJ Ghoul
: I bought my first house plants, which I'm pretty excited about. But I also just realized I'm too poor for Paul McCartney tickets. So, I got mixed emotions towards waking up in the morning.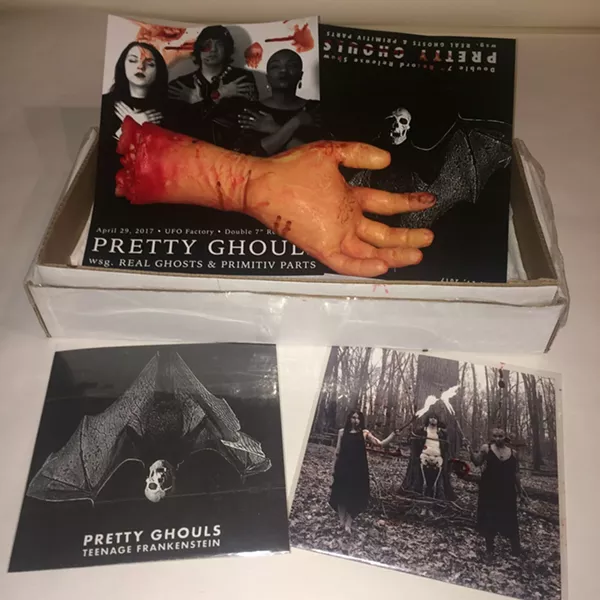 MT
: That is seriously the best promo package ever — whose idea was that? Tell me about how it came together — so rad!!!
Mock
: It was TJ. He's a real gem. Gotta love a bit of dark and twisty fun, right?
Ghoul
: It was one of my childish antics that I didn't tell the girls about as to avoid their judgmental eye rolls, which they tend to have towards my childish antics. The dude at the post office was intrigued by the cemetery return address which lead to him questioning the red smears staining the box. I told him it was beat juice from a Greek salad party in the mortuary. I was half expecting cops to be called about a suspicious package, which would have been the best publicity one could expect from promo package. Unfortunately I wasn't arrested, and now I gotta play the show instead.
MT
: Why play only one show this year??!
Ghoul
: We're releasing two new records at this show, which I'm told is cool. They're our best records to date. But there doesn't seem to be much reason to do anything else until we have something new to share. And with Bowie still being dead, you know, what's the point?
Mock
: I'm actually stepping back to really focus on my personal life. There's lots going on for me this year, and I didn't wanna make commitments I couldn't honor.
"Unfortunately I wasn't arrested, and now I gotta play the show instead."

tweet this
MT
: Let's talk about these records — were all the songs recorded at the same time in Hamtramck? How/when/ what/ why on these things? You sent them off to Jim Diamond to master? So fucking rad. These are great.
Ghoul
: We recorded all the songs last August in a single session with Adam Cox. He's the best in town for recording sounds. He asked me what we wanted the recordings to sound like and so I simply requested he make them sound cool, which he was apparently able to do with a few flips of a switch, and I'm just like "Oh, uh…thanks, dude." Adam has all the coolest switches.
Mock
: Jim, that prince, did master them. Personally I feel Jim did a fantastic job of capturing the chaos. Jim has Detroit Grit. I think you need that to make something like what we do.
MT
: What's next? Future plans?
Ghoul
: I'm gonna set up a projector in my basement and invite the Prude Boys over to watch horror movies on the big screen and eat Taco Bell. Caroline said she'd bake apple pie with my rotten apples.
Mock
: I'm having hernia surgery in two weeks. I can't wait to sleep.
MT
: How much fun was it to do the photo shoot with TJ tied to a tree?
Ghoul
: It was a wonderfully gloomy day and I'm sure the girls enjoyed having me at their mercy a little too much. Our mock Satanic ritual sacrifice was in full view of the surrounding suburban neighborhood. I was anticipating the cops' imminent arrival, which would have been great publicity. Unfortunately we weren't arrested and now we gotta play the show instead.
Mock
: Well, we're always tying up TJ to something or the other so it really was just a regular day. Ha!
MT
: Other Detroit bands/music you are digging?
Ghoul
: I saw the Deadly Vipers for the first time in years the other day and was pretty impressed. They had a B-52's/X-Ray Spex thing going on and it was pretty far out. I've mostly been listening to everything French and synth lately. I think La Femme might be one of the best bands on the planet. I hope they come to Detroit so I can nervously sit in a corner and not talk to them.