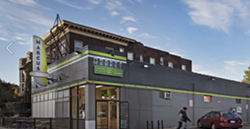 The newest addition to Marcus Market in Midtown is a new juice and coffee bar.
The Juice Joint quietly opened last week and is offering a range of smoothies, juices, and cold brews. Its menu is straightforward and the juices are what one would expect from a new juice bar with options like The Slayer with beet, carrot, apple, kale, romaine, and lemon, ranging from $6 to $7.
The smoothies include drinks like the Jungle with kale, pineapple, mango, and banana that range from $5 to $6. The menus is rounded out with three types of cold brews, and there are no food options.
Marcus Market, located at 4614 Second Ave. in Detroit, is also home to Alley Tacos. Find Juice Joint's website
here
.