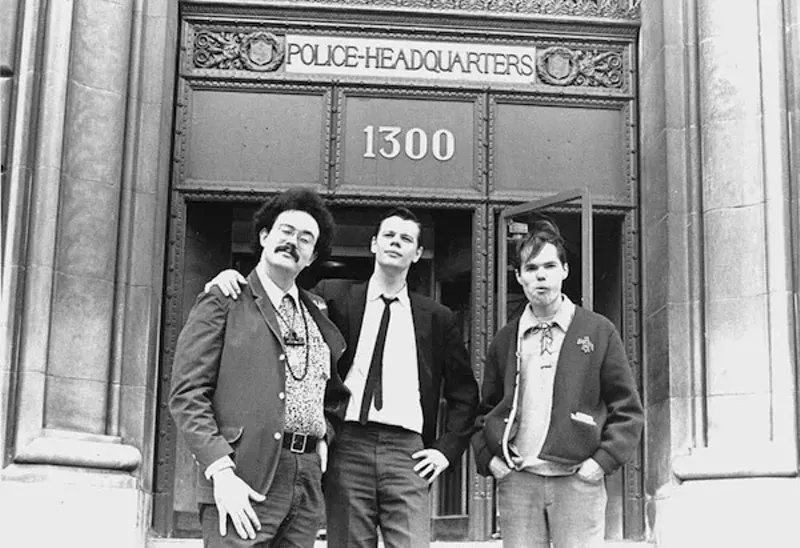 As seemingly everybody gears up to mark 50 years since Detroit erupted in what is described as a "riot," and "uprising," and a "rebellion," we risk forgetting one of the signature events in the run-up to that hot week in July: The Belle Isle Love-In.
What's a "Love-In"? For those who don't know, it's a peaceful kind of protest that involves meditation, lovemaking, and a sprinkling of illicit substances. The term was coined by a Los Angeles radio personality, and a wave of Love-Ins quickly swept the country, as hippies sought inventive ways to protest the Vietnam War and have a little fun at the same time.
The prime movers here in Detroit were John Sinclair and his confreres at the Detroit Artists Workshop, who obtained a permit for said event from none other than the Detroit Police Department. And on April 30, 1967, thousands of hippies and fellow travelers arrived on the island for several hours of singing, dancing, and probably a little bit of doobie-smoking as well.
The Detroit Police Department also got into the act as well, bringing it the riot squad and a tactical mobile unit (precursor to today's SWAT teams) to brandish shotguns and disperse the crowd.
Or as John Sinclair put it saltily in a recent interview with us, "We'd had our maximum hippie event, and the police raided it and drove everybody off the island. So that was our relationship with the police. We hated them."
Though it's often considered a footnote in local history, especially compared to the 1967 rebellion, it was the final nail in the coffin between Detroit's hippie contingent and the Detroit Police Department.
"And when the black people rose up against the police," Sinclair says, "nobody could have been happier than us."
Police-hippie relations are sure to be a lot more sedate this weekend when a Love-In takes over Shelter 8, which is, in fact, less than a football field away from the old police station. It's planned as a sort of hippie reunion, with yoga at 9 a.m. and festivities beginning at 10 a.m., which will include backyard-type games, arts and crafts, face and body painting, merchandise, food vendors, and music. In fact, acoustic performers and poets are invited to sign in at the information table to participate.
It sounds a lot tamer than the event of a half-century ago, but it's also a lot less likely to end in a blur of billy clubs.
The Belle Isle Love-In Detroit 50-Year Reunion takes place 10 a.m.-5 p.m. at Shelter 8, on Riverbank Drive between Inselruhe Avenue and Vista Drive, Belle Isle, Detroit; for more information, find the event's Facebook page.