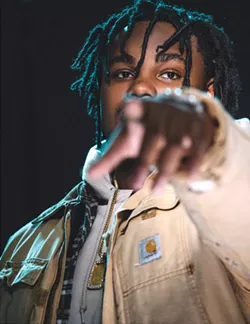 Local rapper Tee Grizzley (born Terrey Wallace) was convicted on Feb. 3, 2015 for robbery, and paroled on Oct. 18, 2016; he then went straight to the studio and recorded his first single, "First Day Out," in the same clothes he was incarcerated in. The single was an instant classic in Detroit's hip-hop community (pardon the cliche), and on Jan. 23, 2017, the record label 300 Entertainment announced that Wallace was their newest signee. Fast forward nearly four months to the day, and Wallace has just released his first mixtape, My Moment, under 300's imprint.
The mixtape starts off with a lighthearted but raw intro that has Wallace kind of sing-rapping about his street life journey a capella. The next cut is his single "First Day Out," followed by "Real Niggas," a track about real friends and fake friends: "Some niggas that I barely know they wanna see me make it, some niggas I know all my life don't wanna see me blow," he raps. The DJ Mustard-produced "Country" is a straight-ahead nodder, "Overlapped" has a gritty but catchy chorus, "Secrets" is a banger; and "How Many" has a fast-paced beat, highlighted by more of Wallace's street stories. "I hit the road with no Ls, that's a real risk/I tried to smash thirty rollies, that's a real lick," he raps. In "Day Ones," Wallace gives a sincere shout-out to all the friends (living or deceased) that have been down with him from the beginning.
The production is full of heavy bass and thick chords that highlight Wallace's flow; they don't challenge him for attention. Helluva Beats handled most of it, while Sonny Digital and DJ Mustard make strong contributions. The mixtape wins because Wallace manages to manifest and channel that same "First Day Out" energy into the entire album. My Moment is as malicious as a hip-hop album can get, meaning if you aren't the kind of listener to rock with street music, you should lay off this one. But Wallace is only 23, and this is his first major project. Through the years, many other artists with similar content have showed us that more layers develop with time — yet another reason Grizzley is truly an artist to watch out for.
Tee Grizzley performs with Young Nudy and 21 Savage at the Fillmore Detroit on Sunday, April 23; Doors at 7 p.m.; 2115 Woodward Ave., Detroit; thefillmoredetroit.com; Tickets start at $30.