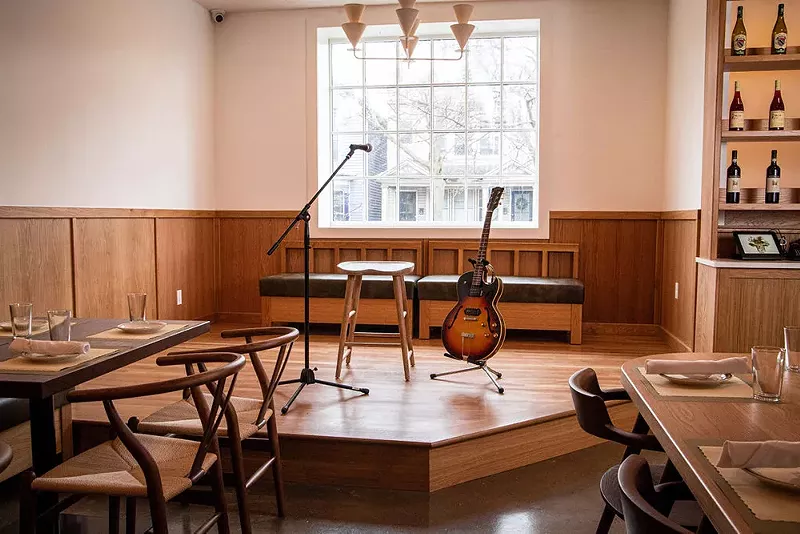 Chowhound is a bi-weekly column about what's trending in Detroit food culture. Tips: [email protected].
Music, maestro: Richardson Browne is a brilliant owner-operator of three busy Phoenix restaurants; Richardson's, The Rokerij, and Dick's Hideaway. Browne's crazy-creative cuisine launched him into stratospheric success decades ago, and he taught me things about "vibe," as he calls it, that I never considered prior to going to work for him in 1992. One of my first lessons was in acoustic ambience and subliminal customer response, which Browne harped on more succinctly as "keeping the fucking music right." One night, he pulled me into the hallway where the restaurant's 100-disc changer played (again, it was the '90s). Changing songs, Browne started his crowd visibly bumpin' to Hootie and the Blowfish, before bringing the room down to a collective, soft swoon with Marvin Gaye. From Blues Traveler to Van Morrison, he went all over the music map to prove a point, keeping everyone swaying along in their seats and spending money.
"Look, asshole," he said to me as he often did, "You gotta play Pied Piper with 'em."
Ever since, I've kept my ears pricked up for eateries with proprietors who seem to know the same secret, running into two recently. At the just-debuted Alpino in Corktown, I felt those good vibrations, thanks to tunes owner David Richter was piping through his new place from his personal playlist. A bluesy Stones piece first stole my attention. Then, one after another, songs I couldn't help but feel assured me another vibe virtuoso was at work here.
"Music's a constant exploration, very subjective," Richter led in. "I'll be master of lights and music here, finding the playlist that speaks well to the background [daily atmosphere]."
Having sunk a mid-range five figures into his sound system (installed by Chris Torri of Nashville's AVLX) and recording studio-quality, sound-dampening materials to insulate the restaurant's interior, Richter's ready to press play. Live acts will also be part of Alpino's program; patio performances start on June 6 with the Detroit-based "cosmic folk group" Young Supply.
A native Michigander from a music-loving family, Richter made his way to New York in the '90s, where he catered to recording execs like Clive Davis at Midtown's Beppe, and the City Winery, famous for its big-time but intimate epicurean-entertainment venues.
"It was a listening room, a listening crowd," Richter recollects, intending to recreate some of that experience in his new, wired-for-sound, Corktown digs.
Weeks earlier, downtown's Savannah Blue treated me to something similar. Before hearing it there, I'd never listened to Michael Jackson's "Butterflies." Beautiful. Or Demetria McKinney's "Happy." Wow. Where you been all my life, girl? J. D. Simpson (one of the restaurant's three operating partners) insists the spirit of Detroit flows palpably through Savannah Blue's sound system.
"We (the partners) went to grade school with guys and gals who became Motown stars. Detroit's legacy of music is distinct and distinguished. We'll honor that here."
From Simpson's lips to God's ears, as they say. Leaving Savannah Blue after dinner, a can't-help-but-move-to song by Detroit's own Stevie Wonder played me out: "I'll be loving you always." Gorgeous. Did it just start playing in your head now, too? So ends the lesson.
When an apology fell flat: Here's a parable on bleary-eyed perceptions and booze-induced, bad decision-making, compliments of the restaurateur I used to know. One night, after he'd been lingering too long over cocktails with his adoring public, Mr. Innkeeper got himself in deep. Physically wedged in the middle of a conversation with an equally inebriated couple, he got called out on his own barroom carpet by another customer who took third party offense on behalf of the husband.
"Stop putting the moves on this guys wife!" Troublemaker butted in loudly. My friend wasn't flirting, nor was the wife. He knew the couple. They knew him. The three of them were just smashed and shootin' the shit. Tending bar at the time, I witnessed the whole thing.
Everything got quiet for a second. My friend looked at me, mortified. He was beside himself. And blasted.
"Just let it go. You did do nothing wrong." I tried to talk him off the ledge, to no avail. He jumped right into drunken dejection and self-loathing.
"I'm so sorry," he slurred to everyone within earshot. Nobody said a word, which my friend took as an apology unaccepted. Then, he reached into his pocket, pulled out his Porsche keys, and plunked them on the bar in front of the husband.
"Here you go, all yours," he muttered through the most impulsively grand gesture. "If I did anything to offend, fuck it, there you go."
"Uh, no." I tried to intervene. Friend wasn't having it. He took his apology even further. Grabbing his wallet, he plucked out his Platinum Amex Card and plinked it down as well. "Here. Have a good time on me," were his last words before disappearing out the door.
And, boy, did they.
Very early the next morning, Mrs. Innkeeper called me to make one frantic and furious inquiry.
"Did you assholes get wasted again?! Where's our fucking car?!!!" Always happy to hear that screaming, I filled her in.
"Your husband gave it away. To two customers. Door prize. Long story."
I won't even attempt to type the tirade she launched into after that, targeting him and me. I couldn't resist:
"I'm guessing he doesn't remember this, either, but he gave away the company Amex Card, too." Her screeching was all I heard as I hung up. She called me back hours later to let me know she'd tracked down the couple at a nearby hotel through American Express. They'd spent nearly $800 dollars on a room at the Ritz Carlton and room service. And they burned out the clutch not knowing how to drive the car there.
The moral of this story? If you've had a few too many and do or say something regrettable, by almost all means, 'fess up and apologize. And always, absolutely, keep everything important in your pants. Come morning, your spouse could inquire as to its whereabouts.
Subscribe to Metro Times newsletters.

Follow us: Google News | NewsBreak | Reddit | Instagram | Facebook | Twitter