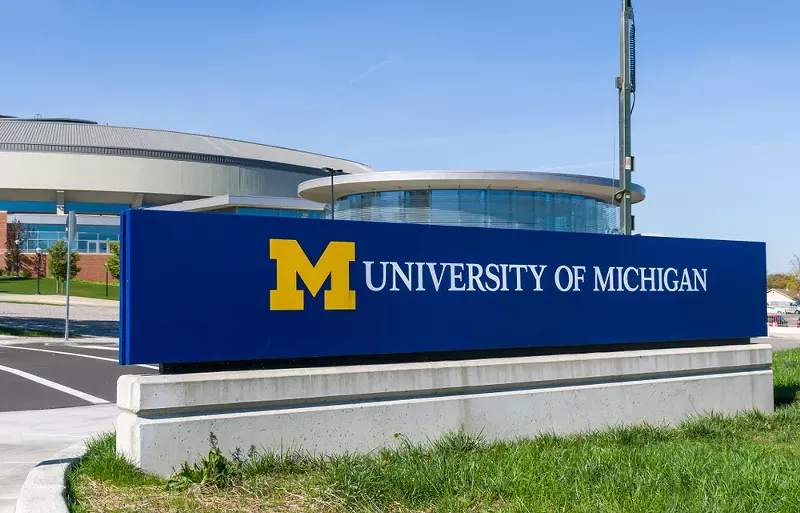 As graduate student employees continue to strike for better wages and health care, the University of Michigan is pressuring department chairs to submit grades for students they haven't taught, according to emails obtained by
Metro Times
.
The Graduate Employee Organization (GEO) has been on strike since March 29.
More than 1,000 of the graduate student instructors have withheld grades during the winter term, GEO Contract Committee Chair Amir Fleischmann tells
Metro Times
.
In response, the university's administration has directed academic departments to issue grades, even though those faculty members have had little to no contact with the students.
"It is astonishing to me that the administration would rather throw academic integrity to the wind and put the University of Michigan's reputation and accreditation at risk than pay grad workers a living wage," says Fleischmann, a doctorate student in political science.
The chairs of several departments have begrudgingly complied with the administration's request to issue grades, and some said they had no choice but to issue A's, emails show.
"None of us are doing this willingly and I am particularly sensitive to the pressure that this has put upon our colleagues on the staff of both ends," Gaurav Desai, chair of the Department of English Language and Literature, wrote to colleagues on May 15.
Desai added, "We do not have any mechanisms for submitting 'real' grades. So any students with outstanding grades will receive an 'A.'"
Andreas Gailus, chair of the Department of Germanic Languages and Literatures, made a similar admission, adding that "the Dean's office has been putting a lot of pressure" on department chairs to issue the grades.
"My plan, at the moment, is to give straight 'A's' to all students in [Graduate Student Instructor] GSI-taught classes," Gailus wrote to instructors in an email.
Multiple instructors have signed a letter in which they threatened to launch a complaint with the university's accreditor.
"We urge administration to remedy this by bargaining in good faith with GEO rather than forcing third parties to undermine academic integrity and professional ethics," the letter states.
University spokeswoman Kim Broekhuizen denied the administration is pressuring faculty to submit straight A's and downplayed the impact, saying 95% of the grades for the winter term have been submitted.
"Many of the remaining missing grades are the unfortunate consequences of GSIs who neglected to complete their duties, violated the contract they signed and failed their fellow students," Broekhuizen said in a written statement to
Metro Times
. "The university is continuing its efforts to provide students with the grades they deserve for the work they have completed."
Broekhuizen added that the university is doing its best to minimize the impact on students.
"We have no obligation to submit grades. We weren't paid for that work. We're not doing it."

tweet this
"Every effort is being made to ensure that grades are as accurate as possible utilizing the evidence that is available," Broekhuizen said. "Students should not — and will not — be penalized for their GSIs' failures to complete their contractual obligations."
Fleischmann responded by saying the university has withheld the graduate student workers' pay since April.
"We have no obligation to submit grades," he says. "We weren't paid for that work. We're not doing it."
Fleischmann adds that it's disingenuous of the administration to claim that it's not instructing departments to fabricate grades because there's no way for department chairs or other non-instructional staff to accurately gauge the students' performance.
In an email to faculty and students on May 9, Department of Comparative Literature Chair Christopher L. Hill said he "did not evaluate any student work" and could not provide accurate grades based on work done after the strike began.
"Needless to say, providing full credit for assignments after the start of the strike means some students may have received grades higher than what they would have otherwise received," Hill wrote. "The alternatives, to assign grades only on the basis of work up to the start of the strike or to evaluate work after its start — when students had little or no guidance — were not acceptable."
Department chairs have expressed unease with the demands to issue grades. Vincenzo Binetti, chair of the Department of Romance Languages and Literature, said the task "has caused significant distress" among faculty members.
"We remain deeply concerned about the submission of grades for political, academic, and ethical reasons," Binetti wrote on May 16. "However, we find ourselves in a situation where we have no alternative choice."
By giving automatic A's, regardless of merit, the university is harming students and instructors in what amounts to academic misconduct, the striking graduate workers say. For language and math classes, for example, good grades determine whether a student is ready for the next level.
"If the Administration made up Winter grades, how are students supposed to know whether they've met the prerequisites for classes in the Fall?" Garima Singh, a graduate student instructor in the Romance Languages Department, wrote in a statement. "Once again, the Administration has left instructors and students to clean up their mess. It's obvious that they don't care about how their actions disrupt students' education."
Ordering the fabrication of grades is a "violation of professional ethics," the University of Michigan Faculty Senate declared on April 21. The senate urged faculty "to reject requests to grade students they have not taught."
Union leaders say they are prepared to continue striking into the fall semester unless their demands are met on pay, childcare, and healthcare. They're asking for a 60% pay raise in the first year of their new contract, which would increase their salary from $24,000 a year to about $38,000 a year.
The university is proposing an 11.5% pay increase over three years.
"We are at a crucial moment of the strike," GEO Vice President Ember McCoy said. "At this crossroads, faculty and staff must decide whether to support or betray graduate workers. At stake is not just our union but the future of what kind of university we want and the fighting prospects of a blooming labor movement."
Subscribe to Metro Times newsletters.

Follow us: Google News | NewsBreak | Reddit | Instagram | Facebook | Twitter