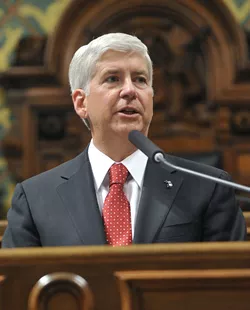 No matter how hard Governor Rick Snyder tries, the Flint Water crisis will rightfully follow the one tough nerd wherever he goes, including his approval ratings.
While Snyder's approval rating has gone up compared to other governors in the United States, he is still the fourth-least popular governor, according to a
new report
.
44 percent of Michiganders disapprove of Snyder, while 40 percent of the state somehow approves of the job he is doing.
Compared to the rest of the country, Chris Christie has the lowest approval rating with only 25 percent (not shocking) followed by Kansas Gov. Sam Brownback (R) and Connecticut Gov. Dan Malloy (D).
Last year, Snyder held the third lowest approval rating.