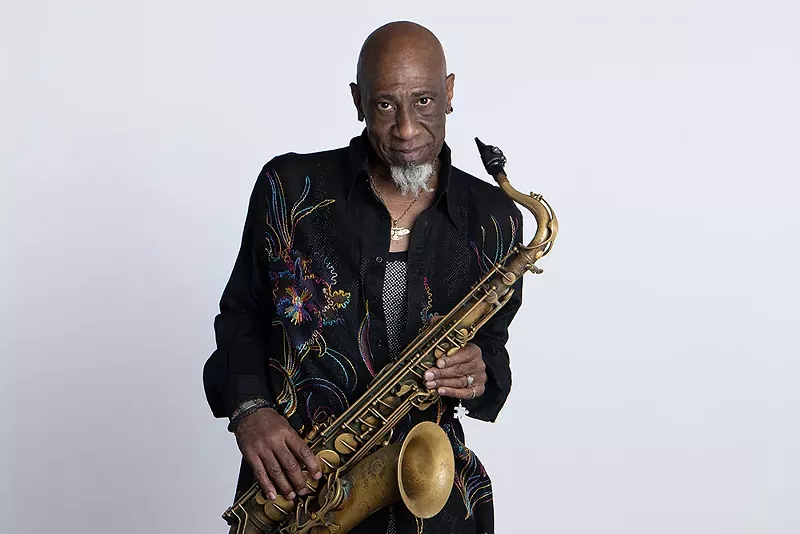 Here's an encouraging thought for us all: no matter where you are in life or career, you can find inspiration in the most unexpected places.
That certainly seems to be the case for Detroit's celebrated saxman Dave McMurray, original member of the unforgettable genre-bending band Was (Not Was), whose muscular Motor City stylings have energized artists from B.B King to the Rolling Stones.
But he's (Grateful) Dead to us now. As in Grateful Deadication 2, McMurray's second album celebrating and reimagining the musical catalog of that immortal California band, being showcased in an album release party-slash-concert Thursday, May 18 at The Magic Bag in Ferndale.
Of course McMurray had heard of the Grateful Dead. He's a musician, after all. But while the band was making its long, legendary live performances decades ago, McMurray was on the road touring himself. He hadn't really heard the Grateful Dead until 2018, when he accepted his longtime pal Don Was's invitation to sit in for an all-star set at San Francisco's Hardly Strictly Bluegrass festival. Much to everyone's surprise, Dead guitarist and founding member Bob Weir, who recently had enlisted Was to join his new band Wolf Bros., showed up to perform with the group.
And McMurray was inspired.
"I didn't know anything about the band at all," he confesses from his Detroit home. "But through the years I was curious about them. Just the whole idea became intriguing. Like, you were a rock band…that solos. It was like Miles Davis or something to me, you know? I dug it. They would have guests, but they would be these really weird guests. And what could make a band's fans travel around the country to hear them play? Plus, I felt really comfortable on stage with them in San Francisco, so it was all good."
That comfort level eventually led to the creation of 2021's Grateful Deadication, McMurray's tribute album reimagining some of the Dead's most memorable tracks like "Touch of Grey," "Eyes of the World," and "The Music Never Stopped" in a jazz-R&B-reggae context. Weir placed his stamp of approval on the project by performing on the LP, joining renowned Michigan R&B songstress Bettye LaVette on a soulful rendition of the Dead classic, "Loser."
Grateful Deadication was McMurray's second LP for renowned jazz label Blue Note Records, which Was has operated as president since 2012. Yes, it's good to have friends in high places, but in this case familiarity has bred nothing but contentment.
"I know Dave's playing really well," says Was. "He is kinda the saxophonian embodiment of the soul of Detroit. And it's been mind blowing to witness him putting a Motor City spin on the Grateful Dead oeuvre. Volume 1 was globally successful for us, and this new one digs even deeper."
McMurray considered Grateful Deadication "probably the best thing I ever did, which is what actually got me into doing it again," he says. "It wasn't my plan to do number two, but the first one did really well and with the catalog they have there were other songs to do without a doubt. So I said, 'Let's try it again.'"
What's more, while contemplating this new Dead-on followup, McMurray couldn't help remember the reaction of the fans, a.k.a. "Deadheads," when he performed in support of the first release.
"You've got 20-year-old girls next to people who were original Dead fans over 50 years ago … This is a whole different world, a different audience."

tweet this
"It's been great because the people stand up while I'm playing," he marvels. "I could be playing some crazy song or whatever and they're standing and spinning around and dancing. I like it! And the variation in ages was different. You've got 20-year-old girls next to people who were original Dead fans over 50 years ago.
"This is a whole different world, a different audience," McMurray says. "They're appreciating what I'm doing, but they have no history of what I have done. You know they're not coming from the jazz point of view but they're open to all of it, which is why I loved them."
Determined to create an even better version of "the best thing I ever did," McMurray went into seclusion at Clubhouse Studios in upstate New York to make the nine-song Grateful Deadication 2. He was accompanied by his Detroit music mafia: the Oscar-winning pianist Luis Resto, guitarist Wayne Gerard, Ibrahim Jones on bass, Maurice O'Neal on keyboards, drummer Wayne Gerard, and percussionist Larry Fratangelo. Master engineer Elliot Scheiner, the multiple Grammy winner best known for his work with the Eagles and Eric Clapton, was at the controls.
"It was really cool recording it because we got a chance to get away," says McMurray. "It was like a farm, a beautiful place filled with vintage equipment. We had four days to record and it was like a marathon: get up in the morning, eat, then just start cutting [music tracks] and having a good time. The studio was open all night and I think that's part of the vibe of the record, having that feel when you have nothing to do but music. I'm excited about it."
Don Was visited the farm — talk about a hands-on executive — to collaborate, perform and co-produce a track. Other guests included jazz keyboard giant Bob James, who can be heard on "If I Had the World to Give" and "The Other One," country music star Jamey Johnson on "To Lay Me Down," and bassist-singer Oteil Burbridge, best known for his work with the Allman Brothers Band, who provides the lilting vocals for the LP's first video, "Scarlet Begonias." A moody remake of the Dead anthem "Truckin'" is also a highlight; hard to believe McMurray didn't include it on album one.
The website All About Jazz notes that McMurray's sax "reflects his roots in Motown and soul no matter what he does," which makes Grateful Deadication 2 a fascinating listen. Could it bridge the generational gap between Grateful Dead fans, or become the smooth-jazz option for senior Deadheads?
What a long, strange trip that would be.
Subscribe to Metro Times newsletters.

Follow us: Google News | NewsBreak | Reddit | Instagram | Facebook | Twitter