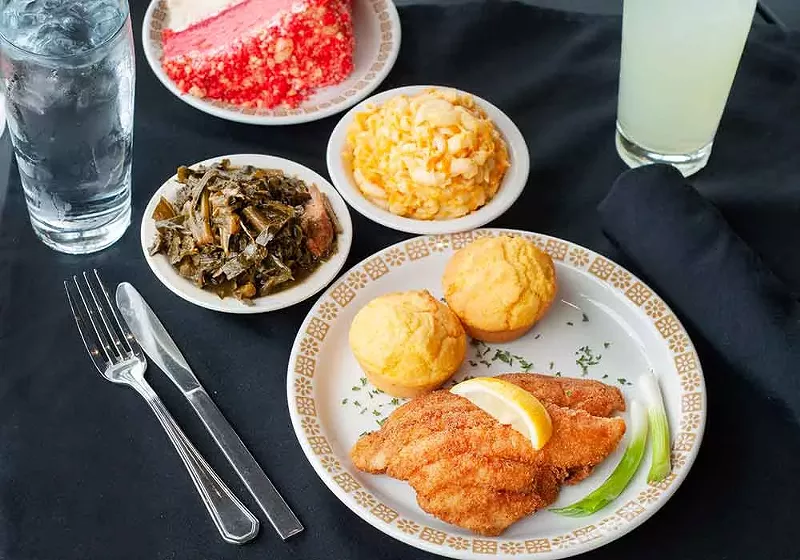 Restaurant websites are home to some of the most clichéd, repetitive, content-free platitudes you will find on the internet. Everyone has a "passion" for "telling their story" through food, often with an homage to a mom or a grandmother. Ingredients are not chosen but "curated" and if the food is "sophisticated," it's also "approachable." There is no "traditional comfort food" that's not served "with a modern twist."
And don't get me started on why a restaurant, which is a building with physical objects in it, must now be called a "concept."
So for a person who cares about writing, it was a thrill to find Detroit Soul's page giving us a history lesson on the origins of soul food, well-told and not pulling punches. The writer talks of "that peculiar institution [slavery] and its offspring Jim Crow" and gives a nod to the Green Book and to Isabel Wilkerson's The Warmth of Other Suns, about the Great Migration that brought Black people to Detroit. Owners Samuel Van Buren and Jerome Brown are "sharing the food that helped us survive the decimations of desegregation, Devil's Night, and the Detroit auto industry." Read on to find that captured women smuggled African seeds to the New World in their braids.
Thank you to whoever decided to take a stand against pablum in public pages.
I visited Detroit Soul's second location, which opened in December 2022; the first is a carryout that's been at 2900 East Eight Mile Rd. in Detroit since 2015. The sit-down spot is one large room with big windows, nice but not fancy, full of well-dressed post-church diners on a Sunday afternoon.
The traditional meat and choice of two sides are offered, and if there's a "modern twist," it's that healthier cooking methods are sometimes used: vegetable oil instead of lard, smoked turkey instead of ham in the collards. What's not on the menu is ribs, which are available only at the Eight Mile spot and only on Saturdays.
Probably my very favorite dish was fried chicken, which was lusciously juicy and well-spangled with flaky crust. It was a slightly different style than my Alabama-raised mother used to make (there's the inevitable homage) but I did not hold that against it, since the result was a crunchy, squirty mouth-feel. I of course chose the dark meat option, preferring flavor.
Sorry, a family anecdote: For years it was known in our family that my father always wanted the drumstick. No problem. Then somehow the truth leaked out: the man did not like chicken, and the drumstick was the smallest piece. He did not like my mom's fried chicken! This is unaccountable. At Detroit Soul, the drumsticks are large enough that my dad would have suffered. You get two plus a thigh.
I didn't feel the same way about smothered pork chops, where the copious but bland gravy covered up any flavor of pork; I'd get the plain ones next time. A lighter hand was used with fried catfish and perch. These are done with a light, crisp coat and a buttery flavor; even if you don't order fish for your dinner, try the catfish fritter appetizer, which almost literally melts in the mouth.
Salmon cakes, another appetizer, are similar in their good texture, with the lightest of crusts, though they include more ingredients and have a little bit of peppery bite. This is another one of the traditions that came from poverty, where families could get some protein from an inexpensive can.
Meatloaf is pretty dense and moist, not overly salted though perhaps over-gravied.
Among over a dozen sides, it's hard to choose just two. I broke them down into three categories: like Mom's, not like Mom's but good, and no way this is right. Only one fit the last category, some soupy potato salad tasting like pickles. Mac and cheese is made with the requisite sharp cheddar. Black-eyed peas are their earthy selves, seasoned with a few turkey bits. Collards are well-stewed but still with a bit of chewiness. Green beans taste right but could be left on the stove a bit longer (if you grew up with the falling-apart kind). Yams are not overly sweet and provoke Thanksgiving memories. Baked beans are maple-y sharp. Dressing is the fine-grained, solid kind (you can't discern individual bread crumbs); it was generous and great with cranberry sauce.
Dinners also come with a cornbread muffin, which is sweet with a light, airy crumb.
Desserts from a vendor are traditional and vary from day to day: 7-Up cake, yellow cake with chocolate icing, cheesecake, German chocolate cake. I enjoyed a lemon pound cake with a dense crumb and lemon drizzle. There were no strawberries in the strawberry shortcake.
Detroit Soul also serves sandwiches and weekday lunch specials at a bargain.
You'll be reading this review after Mother's Day, which is probably a good thing. I would not have liked to take my mom to a place where all the conversation was about "whose is better?"
Subscribe to Metro Times newsletters.

Follow us: Google News | NewsBreak | Reddit | Instagram | Facebook | Twitter