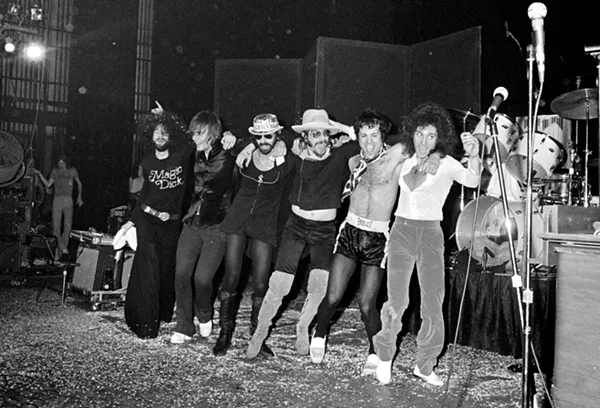 It was with a heavy heart that we learned last night that guitarist John Warren Geils Jr. — aka J. Geils, founding member of the J. Geils Band —
died in his physical home of Groton, Mass. at the age of 71
, apparently of natural causes.
For many Detroiters, the J. Geils Band was a Detroit act. "Although living in Boston, the band had always considered Detroit their second home because of their enormous popularity there," to quote the
Wikipedia entry for Full House
. "Two of their three live albums were recorded in Detroit at various venues. The third live album was recorded in Detroit and Boston."
It seems that the entire
Creem
staff were fans; Lester Bangs even played a "solo" onstage on a typewriter during one of their songs. They wrote and recorded one of our favorite songs about Detroit (see above). The band was played on Detroit radio with the type of regularity and pride reserved for local heroes, while a
hip-hop cover of "Flamethrower"
by
The Scene
mainstays Felix and Jarvis was a regional hit. Even their later and new-wavier, MTV-era material got airplay from the Electrifying Mojo, and you can't rack up higher Detroit cred points than that. In recent years, when the J. Geils Band played reunion shows, they tended to hold them just in Detroit and Boston; they were homecoming events, as opposed to large, revenue-generating tours.
Naturally their Top 40 smash hits like "Centerfold" or "Love Stinks" are what most people think of when they hear the name, but in Detroit we celebrate their soulful stripped-down pre-fame jams, their "no-bullshit, non-Southern party rock band at the height of the prog era," as Ann Arborite and future Third Man film series programmer Dustin Krcatovich puts it.
Lifetime Michigander Chris Porter reminisces seeing them as the first concert for his 13th birthday. "They recorded those September 1982 shows at Pine Knob and ended up releasing the
Showtime
album, the group's third live LP recorded in Michigan — an odd thing for a band from Boston, but the J. Geils Band was so popular here that they were the Motor City's adopted sons," he says on Facebook.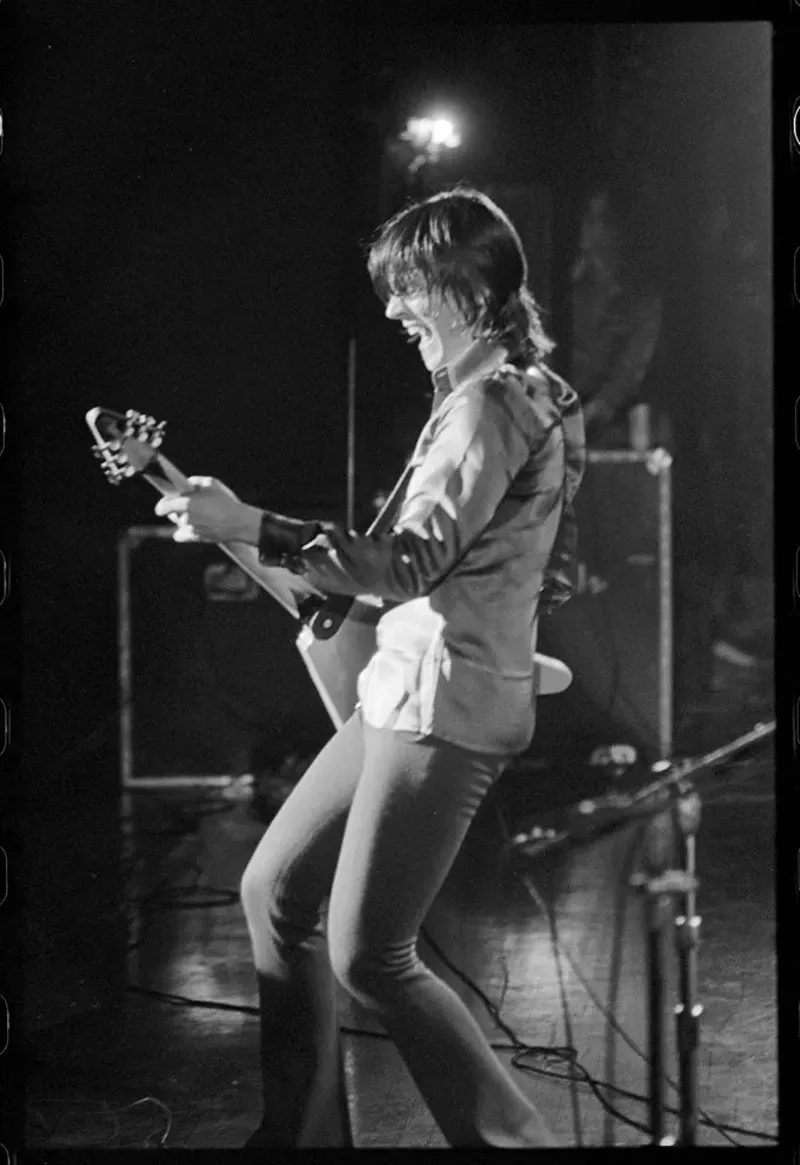 Photographer Doug Coombe also chimes in on Facebook: "I think it speaks to a pre-Internet time where if you could win over Detroit as a live act it would help you break as a national act — see Kiss, or Journey's desperate name check of 'South Detroit' in 'Don't Stop Believing.'"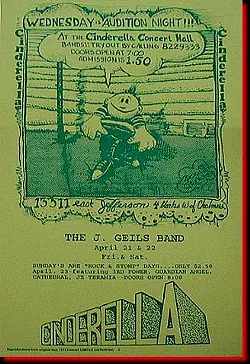 Lori Tucker-Sullivan, who teaches at Wayne State and is executive director of the
Independent Booksellers Consortium, writes that she scanned through many posts on social media last night by her high school girlfriends, "because we all loved J. Geils and attended multiple shows," she says. "Every winter at Cobo; every summer at Pine Knob. They weren't necessarily good-looking, they were just the embodiment of rock and blues and good-time party music. It's interesting that some bands divided us — I loved Queen, others went for Elton John, yet others loved Black Sabbath, but we
all
loved the J. Geils Band. You just couldn't be a rock music kid in Detroit in the late '70s and not be a fan. Detroiters always knew that we were the best rock audiences and this band acknowledged that with a genuine affection."
Promoter and historian Willy Wilson writes, "You realized that you were witnessing something special and the band was going to play until you and them both dropped in a sweaty mass from shaking your rump. They were a blue-collar party band that fit the mold and feel of what Detroiters wanted to hear and see. No bullshit, just a good time from a band that would blow your face off — leaving you a little drunk, a little sweaty and a bit of a ringing in your ear, And then you couldn't wait to see them once more, to see if they couldn't pull it off again — and the band always did."
John Neilson writes that "'hard R&B' is part of the Detroit DNA. The Motor City always embraced harder rock, but also Funkadelic, Motown, Westbound and other funky sounds, and the two mixed (on the radio at least) more in Detroit than most places. Mitch Ryder's Detroit Wheels could steamroll most other white R&B pop of the '60s. Our proto-punks were inspired as much by James Brown and Sun Ra as by the Kinks and the Yardbirds. A band like J. Geils that did hard-driving R&B covers was a natural in Detroit."
Photographer Robert Matheu, who generously lent us these rare photos here, enthuses that "J. Geils were the sound of Detroit, as Doug Coombe stated — it was the blues, it was R&B, it was everything we needed when we left the factory."