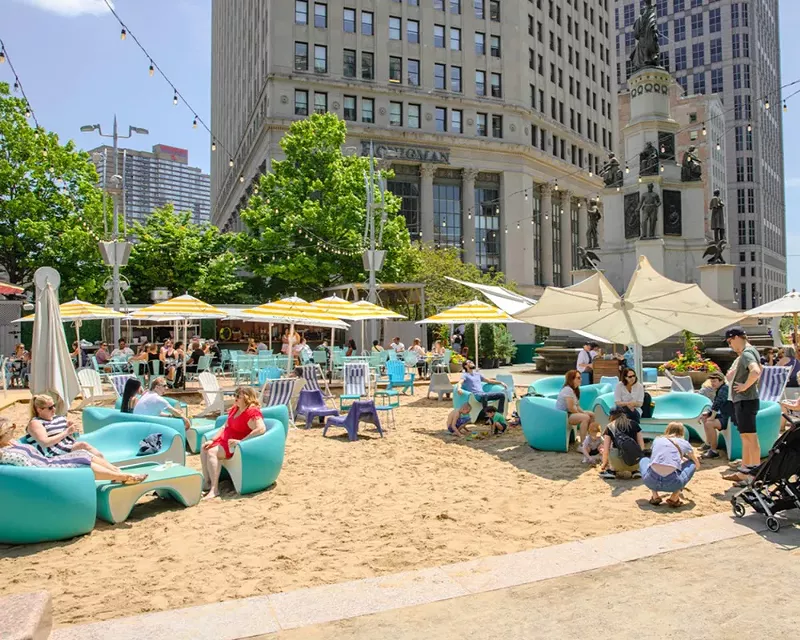 Once again, Campus Martius Park is set to become transformed into a tropical getaway right in the heart of downtown Detroit.
BrisaBar, a beach-themed bar and dining spot, will return for the summer season on Thursday, May 18.
The project comes from the Downtown Detroit Partnership and Birmingham-based Elia Group, whose Iconic Collection portfolio includes Detroit's nearby Parc and Anchor Bar restaurants, as well as Birmingham's 220 Merrill, among others. In the winter, Elia Group also runs the Cadillac Lodge venue in Cadillac Square.
BrisaBar will feature al fresco dining with lunch and dinner options, tropical cocktails, and lots of sand, so guests can feel free to take off their shoes and pretend they're on an island retreat.
"At Elia Group, we pride ourselves on our ability to transform the ordinary into entirely iconic environments and that's exactly what our guests will experience this summer at Detroit's only downtown beach," Elia Group founder and CEO Zaid Elia said in a statement. "We're honored to continue our partnership with the Downtown Detroit Partnership to bring Detroit's hottest summer party back for another momentous season."
BrisaBar will also feature live entertainment, including DJs on Friday and Saturday nights and Sunday afternoon brunch. Campus Martius Park will also host "Movie Nights In The D" on Wednesday evenings, screening films outdoors.
BrisaBar's expanded hours are from 11 a.m-9 p.m. Sunday through Wednesday for lunch, happy hour, and dinner, and 11 a.m.-11 p.m. Thursday through Saturday.
Happy Hour is served Monday through Friday from 3 p.m.-6 p.m.
BrisaBar will remain open through September, weather permitting.
Coming soon: Metro Times Daily newsletter. We'll send you a handful of interesting Detroit stories every morning. Subscribe now to not miss a thing.

Follow us: Google News | NewsBreak | Reddit | Instagram | Facebook | Twitter