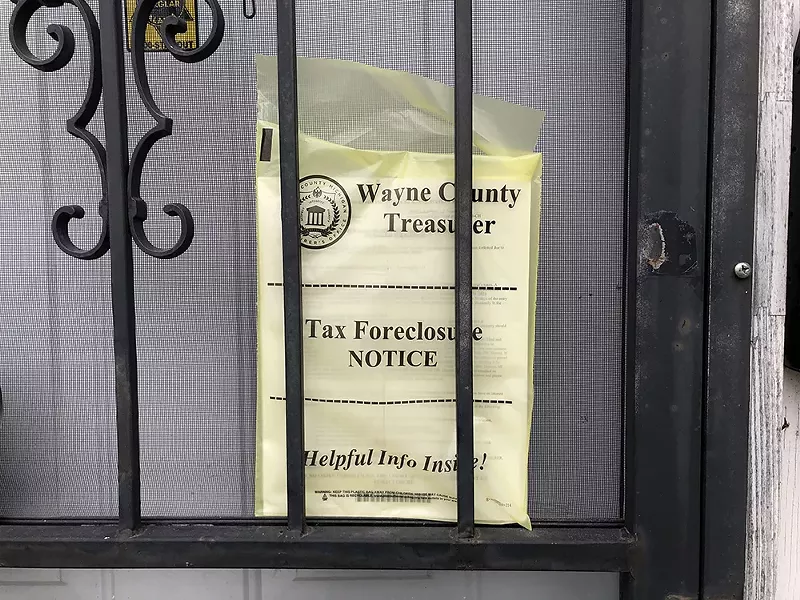 Wayne County Treasurer Eric Sabree has halted property tax foreclosures for owner-occupied homes this year.
About 3,400 owner-occupied homes were facing foreclosure.
The Third Circuit Court granted Sabree's request for a moratorium on foreclosures last week.
"Our number one priority remains keeping people in their homes, and we want to give Wayne County property taxpayers — many of whom are still feeling the effects of the COVID-19 virus — additional time to apply for funding that can assist them with holding on to their property," Sabree said in a news release.
Sabree sought the moratorium to give delinquent homeowners an opportunity to take advantage of
the Michigan Homeowner Assistance Fund (MIHAF)
, a new federally funded state program that helps people pay back their property taxes.
MIHAF was launched last year with $242 million from the American Rescue Protection Act (ARPA). The program expires in 2026, but officials suspect the money will run out by then.
The fund has provided more than $13 million to 5,500 Wayne County homeowners.
To be eligible, homeowners must have experienced a COVID-19 hardship, such as earning less money or paying more for expenses, and earned less than 150% of the poverty level. For a family of four, that equates to a household income of $50,000 or less.
Activists and elected officials also successfully lobbied the state to allow homeowners who owe taxes from 2019 or earlier to be eligible.
About 6,000 Detroiters have delinquent property taxes dating back to 2019 or earlier.
"We continue to strongly urge Wayne County residents to apply because MIHAF can provide significant help to residents who were impacted by COVID-19," Sabree said.
Activists have knocked on doors, made thousands of phone calls, and sent out mailers notifying homeowners of MIHAF. The Wayne Metro Community Action Agency and the Coalition for Property Tax Justice led the effort.
Coming soon: Metro Times Daily newsletter. We'll send you a handful of interesting Detroit stories every morning. Subscribe now to not miss a thing.

Follow us: Google News | NewsBreak | Reddit | Instagram | Facebook | Twitter