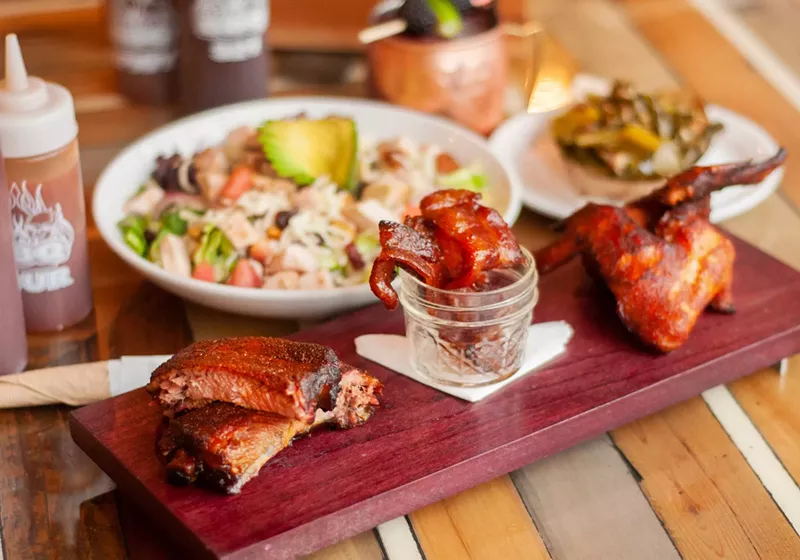 When is it too soon to review a new restaurant? And what might customers miss out on when we're quick to judge? Brad Brad's BBQ, which opened its fifth Detroit-area location in Livonia in November, answered both of those questions eloquently.
When a host informed me of a wait for a table during a recent visit, I asked about eating at the bar and she pointed me the way. Plunking myself at a table set between the few already occupied booths and a handful of empty barstools, a bartender made eye contact with me.
"You're not supposed to sit here," she said.
"I'm sorry?" Surprised by the sudden attack, I got instantly defensive. "The host sent me here. She said I could eat."
"But only at the booths. Not these tables."
"Yet here I am," I replied. We stared each other down, Mexican standoff-style. Then, she blinked, and let me order a drink. A "Spicy Margarita" seemed appropriate. She poured it, I sipped it, and we both huffed and puffed. When my glass was empty, I got up, walked back over to the host, and requested another table.
"But you already have one," she insisted.
"Where I'm told I'm not supposed to sit," I shot back, frustrated. Back at a standstill, I made a speak-with-a-manager move. After a quick, roundtable rehash, I decided to cut bait, pay my bill, and head back home.
Feeling guilty over my part in the matter, I returned two weeks later. The same host greeted (and remembered) me. We made amends. She sat me at a nice table.
My first course, guacamole with red and green salsa, made me homesick for Arizona. Freshly fried, perfectly crisp and salted corn tortilla chips were served with three equally fine condiments: a smooth, green salsa blending tart tomatillo and creamy avocado, a spicier and slightly smoky puree of roasted red tomato redolent with garlic and onion, and a perfectly precious scoop of great guac, flecked with cilantro and marbled with whole bits of avocado. (In Mexican/New Mexican cuisine cultures, guacamole isn't blender-rendered baby food mixed with sour cream. That's gringo gastronomy.)
Another threesome I'd indulge in again is the BBQ Trio: two whole chicken wings dry-rubbed with spices and perfumed in wood smoke, two hickory-kissed pork spareribs, meaty and tender, and strips of hot, sticky-sweet "pig candy," the house bacon — Chipotle and sugar-cured, cut a little thick.
Greens proved a great start to the next day's lunch visit. Let's talk turkey salad . Loved the main ingredient — lots of delicately smoked turkey breast — tossed with a wealth of other compatible components (fresh, mixed lettuces, buttermilk dressing, shredded Brick Cheese, dried cranberries, chopped tomato, avocado, slivered red onion, candied nuts, and more pig candy). What's even sweeter about this salad, though, are countless, small slices of candied sweet potato that brighten every bite.
Nearly full before even ordering an entrée, I worked up an appetite again with a few, long pulls on my Apple Butter Old Fashioned. Too tart for my tastes, it did pack a wallop (Maker's Mark Bourbon), pretty much dissolving an eco-friendly paper straw. Waiting for more food, I took a minute to take in the scene. Brad's is brightly lit and windowless in much of the interior, almost casino-like. There's blonde wood and brickwork everywhere. The feel's more corporate than proprietary, but not cookie-cutter. There's a pizza oven and a pick-up kiosk. Swarms of busy staff buzz from the kitchen through the dining rooms. The concept looks to be going places.
It's clear to see why when my three-meat platter's presented. Chicken tortilla soup, one of my sides (it comes with a choice of two), satisfies. Dotted on top with sour cream, it comes medium-spicy in a teapot-sized, cast-iron crock, with corn tortilla-thickened broth, shredded chicken, and torn cilantro. My second side is downright delicious: collard greens with blacked-eyed peas, cooked down in a balanced broth of vinegar and smoked pork stock. Mine came with a stewed-tender chunk of the meat itself.
Sizing up the co-starring proteins on my plate, big props to a whole New Mexican sausage. Its crisp casing beautifully browned, it reminded me of the links I feasted on for years at Richardson's Cuisine of Santa Fe (in Phoenix, actually), one of the most storied restaurants in the American Southwest. By comparison, my pulled chicken was just OK: moist and flavorful enough but nothing more. Bad Brad's assortment of sauces made the middling bird bits better, with three fairly standard styles that proved minor variations on the typical theme. Best in show for me proved to be a sweet-tangy, Carolina-style mop sauce tinged with mustard. The Ghost Pepper, however, packed more Scoville punch than I'm inclined to swallow.
Saving the best for last, five generous slices of point cut brisket proved all I needed to know about Bad Brad's prowess in cooking this trickiest barbecue treat. More marbled than its flat cut, fraternal twin, the fat's flavor was rendered fully through the meat, and with a telltale smoke ring clearly visible just beneath the thinnest layer of irresistibly charred and chewy bark, it was plain to see that there are real pit bosses at work here.
Waddling out of Bad Brad's feeling extremely well-fed and cared for, I realized I'd also just been served up a perfect reminder about what's reasonable to expect from the restaurants we all reserve the right to pass judgment on. Do we tend to write them off too easily and too often? If so, over what? Perceived slights as flawed and flimsy as a flustered look on a busy food service professional's face?
Way back when, some deluded idiot who likely never tended bar or waited tables started espousing the abundantly flawed theory that "the customer is always right" — and restaurant-goers have been holding the industry hostage to this horseshit maxim ever since. New or not, restaurants deserve more grace than we give them. Bad Brad's punctuated that point through something that's true of real hospitality pros. They rise above the fray of mishaps that happen every day. Kudos, Bad Brad's.
Coming soon: Metro Times Daily newsletter. We'll send you a handful of interesting Detroit stories every morning. Subscribe now to not miss a thing.

Follow us: Google News | NewsBreak | Reddit | Instagram | Facebook | Twitter