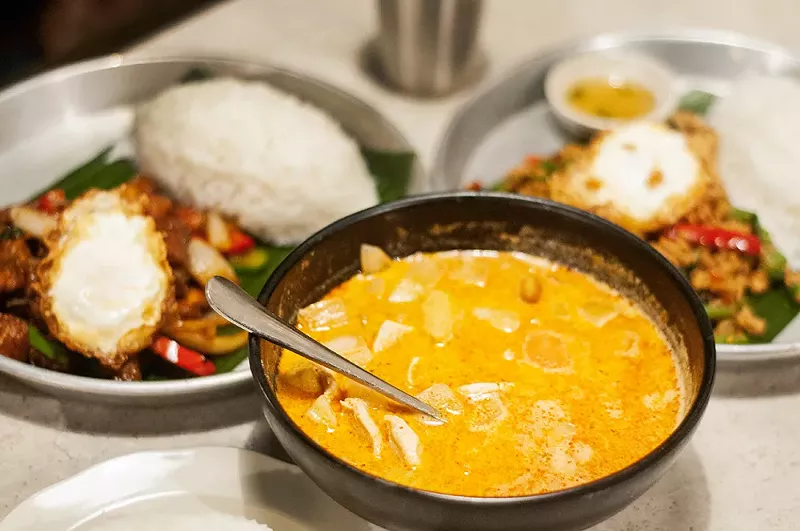 As we ate at Thai restaurant Basil Babe, a friend commented that its massaman curry is the best version of the dish he has come across in the Ypsi-Ann Arbor area, and perhaps anywhere. I'll go even higher in my praise — this is one of the better dishes I've dug into for a review this year. The coconut milk-based curry is a slightly sweet and savory Thai curry dish with some Middle Eastern fingerprints on it. Basil Babe's take is practically silky, rich, and deep. Though its flavor is bold, the heat is bearable as it doesn't seem to contain any of the chilis usually a part of Thai curries. Co-chef and owner Haluthai Inhmathong wouldn't reveal any Basil Babe secrets, so we'll speculate a bit on what's in it based on how it's often made. The dish's deep red-orange broth can be composed of coconut milk, peanuts, palm sugar, star anise, and cinnamon, and, in many versions, fish sauce. A co-diner speculated that nutmeg might be what puts Basil Babe's version over the top. For all the complexity and the fiery hue, the dish somehow remains simultaneously mellow, and here it arrives with carrots, onions, potatoes and chicken, which we added for $2. The hefty bowl is served aside jasmine rice.
Regardless of what's in it, it's excellent. And though the massaman stood out, there's plenty of depth, bright flavors, complexity, and execution across the menu at Basil Babe, a collaboration between Inhmathong and her mom, who opened and owned Ann Arbor's Siam Square until 2018. They started popping up around Ann Arbor and Detroit for several years, and the new restaurant in Ypsilanti's student neighborhood had a soft opening on Jan. 3 and never really turned off the open sign, Inhmathong says.
Together the team develops recipes that benefit from the mother's traditional approach and the daughter's modern updates on Thai recipes — they "met halfway," Inhmathong says, and the tension pays off in plates like the OG stir fry, which arrives with crumbles of minced pork, garlic, thai bird's eye chili, bell pepper, green bean, and thai basil aside jasmine rice. Its main feature is umami that at least partially owes to fish sauce in the stir fry's sauce that's enhanced with a bit of crisp heat from the birdseye, and both elements are doubled up with a side of prik nam pla, a mix of fish sauce and thai chili. The yolk in the fried egg we added contributed even more depth and richness.
Another stir fry arrived with cubes of salty pork belly with plenty of glorious pig fat. It's drenched with a brown sauce anchored by oyster sauce that's salty sauce and also contains plenty of umami. Onions, bell peppers, heavy garlic, and birdseye peppers are also in the mix, and the birdseye chilis again add a pleasant heat.
Among Basil Babe's focuses are dumplings, and Inhmathong's weekly menu offered two during our visit, both fried. The Mushi Modes are folded with bok choy, onions, and wood ear and shiitake mushrooms that were sauteed in sesame oil, garlic, and ginger, and which provide an earthy, meaty element. That's topped with a sweet and spicy chili sauce, cilantro, and crispy fried shallots for flavorful accents and textural contrast. The other dumpling option was similar, but filled with spicy pork, birdseye chili, garlic, and thai basil mix — the garlic is heavy, and it's essentially the OG stir fry version of the dumpling.
Three chicken skewers flavored with a coconut-curry sauce that's heavy on turmeric comprise the satay gai. The sweet and bright vinegar with little triangles of cucumbers and diced red onion really made the dish pop.
We didn't get into noodle dishes like pad thai or desserts, like coconut pandan pudding cups and cocosquash made with kabocha squash and tapioca pearls in a coconut sauce. Drinks include standard pops and Thai coffee and iced tea, and as soon as a liquor license transfer goes through, expect some beer and Asian cocktails.
InhmathongIts created a whole Instagram-friendly vibe that people these days love. The service process is a bit awkward as one is sat and must pull up a menu on the phone before placing an order with a host, which may require standing in a line one previously stood in while waiting to be sat. Try to get a table instead of a booth, as the booths are tight. But these are very minor complaints in the bigger picture, and Basil Babe adds to a growing roster of restaurants that put Ypsilanti and Ypsilanti Township among the more interesting places to dine in southeast Michigan.
Coming soon: Metro Times Daily newsletter. We'll send you a handful of interesting Detroit stories every morning. Subscribe now to not miss a thing.

Follow us: Google News | NewsBreak | Reddit | Instagram | Facebook | Twitter