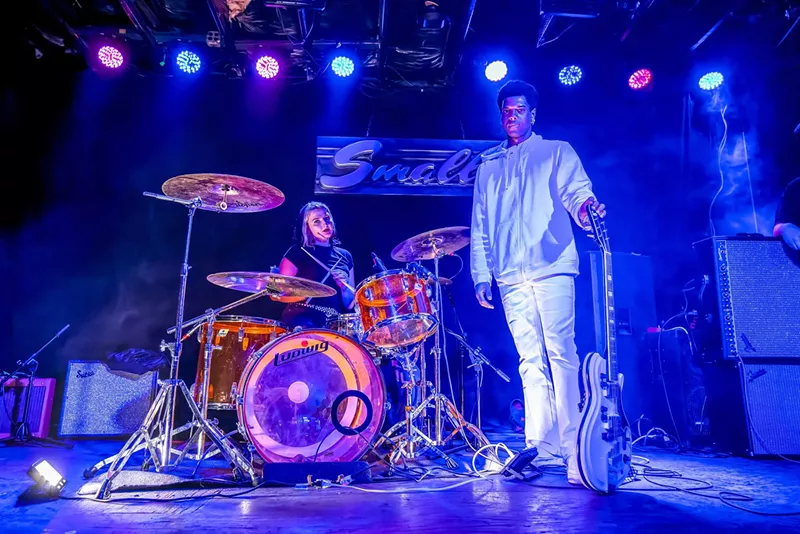 There's a new two-piece rock 'n' roll band in town — and no, they aren't pretending to be siblings.
They're called Checker, and they're Cinquex on guitar and McKenna Fain on drums. Cinquex, 25, is from Detroit, while Fain, 23, is from the suburbs.
"From the outside looking in, we're like a PR person's wet dream," Cinquex jokes. "Like, 'Oh my god, a Black dude and a white woman!'"
Their name comes from the game checkers, which are black and white, Fain says, but the theme of duality also carries through to the band's influences. Cinquex says he grew up mostly listening to hip-hop acts like Lil Wayne ("Maybe I just wanted attention," he says when asked why he first picked up the guitar) while Fain says she loves Detroit rock bands like the Go and the Pizazz. "Together, it's like this really cool mix of something more gritty and something more grandiose," she says of their style.
The band started about a year ago, after Fain spotted Cinquex playing guitar at an open mic night at Ferndale's New Way Bar. It was his first time performing there, and he was wearing an American flag hat. "I was like, you know, if I go down to this place, what's the best thing I can wear to camouflage?" he says.
At the time, Fain was starting a new band and looking for bandmates. "I was like, well, they've got to be good, and they've got to be hot," she says. Before Cinquex had even left the stage, Fain says she ran up and asked him if he was in a band.
"I just saw a star," she says.
The next day they started playing together, initially as a three-piece, but soon Fain moved from bass to drums and they became a duo.
"It was more rockin'," Fain says.
"And somehow louder," Cinquex adds.
The two say they practice nearly every day, and perform multiple times a month. The band's next show is opening for Duende on Saturday, March 25 at Detroit's Outer Limits Lounge. They're also in the process of recording their songs and hope to tour in the summer. "We're just trying to get sponsored by Prius, because we can fit everything we need in that car," Fain says.
"If we're going to be in a band ... we can't just be good in Detroit," Cinquex says. "We have to be great on the national level, on an international level. I don't want to just be known in the city."
The two say they're competitive because they used to play sports; Fain was on a roller derby team for seven years, while Cinquex says growing up he did soccer, tennis, baseball, tennis, golf, diving, swimming, and lacrosse.
Fain cuts right to the chase: "We want to be bigger than the Beatles," she says.
They're tired of the endless "rock is dead" debates. "If you think rock is dead, all you have to do is go to a Detroit show," Cinquex says, although they think mainstream acts like Machine Gun Kelly and Greta Van Fleet are too concerned with their rock 'n' roll image and not the music.
In Checker, both share vocal duties, and say they work hard on writing lyrics in an attempt to give their songs a universal appeal. They say they also write songs that stand on their own.
"We can honestly go on stage and play every one of our songs on just a fucking acoustic guitar and a bucket," Cinquex says. "It would be just as good."
They say they also hope they can help be an example for others yet to come.
"I always tell McKenna, Wu-Tang said it best: 'Wu-Tang is for the children,'" Cinquex says. "Checker is for the children."
From the 2023 new Detroit music issue.
Coming soon: Metro Times Daily newsletter. We'll send you a handful of interesting Detroit stories every morning. Subscribe now to not miss a thing.

Follow us: Google News | NewsBreak | Reddit | Instagram | Facebook | Twitter