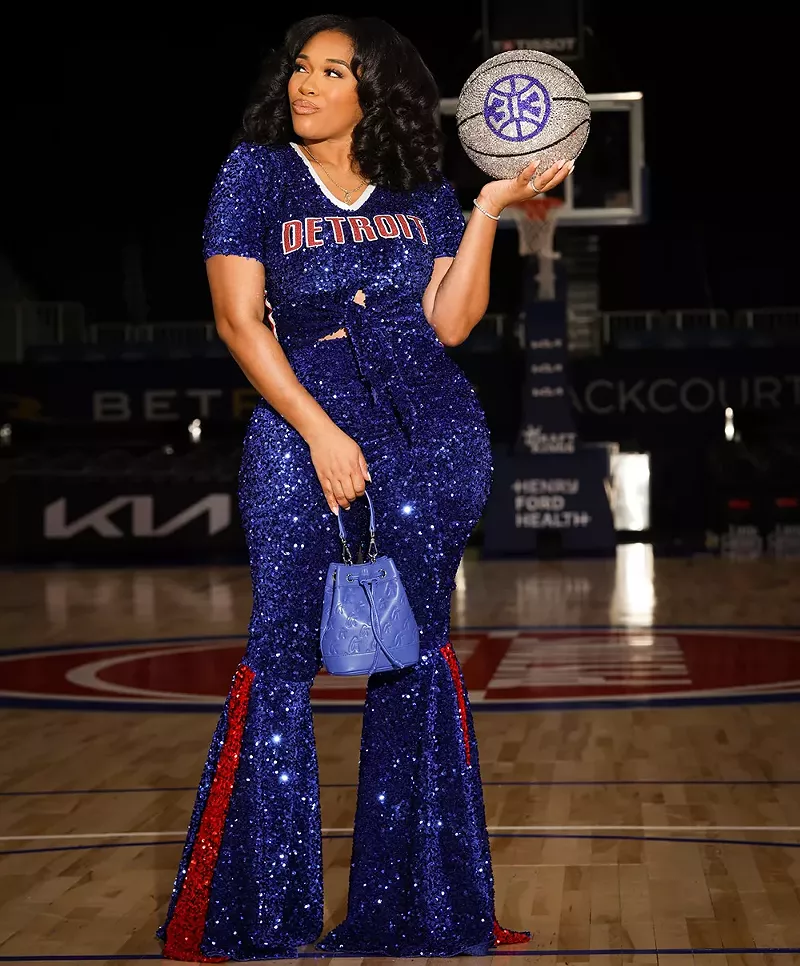 For Detroiters, this Monday, March 13, will be more than just another day on the calendar as it marks 313 Day, a day to celebrate the Spirit of Detroit.
The Detroit Pistons are going all out to honor the celebration this year by putting a spotlight on local businesses on Monday during the Pistons' home game at Little Caesars Arena against the Indiana Pacers. The day will include a halftime performance from Detroit rapper Royce da 5'9", a giveaway of a $25,000 custom chain from Hutch's Jewelry store, and retail collaborations with local fashion designers Ty Mopkins and Mia Ray.
Ray says that although she has always had big dreams for her Glam-Aholic Lifestyle Brand, she never imagined collaborating with the Detroit Pistons.
"It feels like I am literally dreaming," Ray tells Metro Times. "I am a D girl through and through. I can remember going to the games and sitting in the stands and now I am doing a collab with an amazing NBA team."
Ray's relationship with the Pistons started when her close friend, Mopkins, who has worked with the Detroit Pistons in the past on exclusive product launches, suggested she get in touch with the organization. Mopkins believed that Ray's Glam-Aholic brand teaming with the Pistons would be a great idea since March is also Women's History Month.
"After that, one of the reps reached out to me," Ray says. "Her name is Regan, and she [oversees] the SHE-1-3 Collection. She thought it would be a great idea for us to collab and we took it from there."
Since launching her fashion brand in 2009, Ray has grown it into a multi-million-dollar business that offers affordable luxury accessories.
Three Pistons-colored Glam-Aholic bags, including a mini backpack, a mini bucket bag, and a wristlet, will be available to purchase online on 313 Day. The bags can be purchased exclusively on the Pistons website.
"I definitely felt like this collaboration was something women in our city needed to see," Ray says. "I am the first handbag line that the Pistons have ever teamed up with, so this means everything to me."
With restrictions on the size of bags people can bring into venue due to safety concerns, Ray came out with a line of unique, arena-friendly bags.
"I wanted to create a bag that will keep you in style, but also meet the arena bag requirements," she explains. "All the bags are perfect for a night out at the arena, whether it's a concert or a basketball game — or it's just really cute to have."
The Pistons are always making sure to recognize people in the community during their home games. In recent years the team has highlighted educators, small businesses, and entrepreneurs in the community. In addition, for the Pistons franchise, showcasing female designers in the retail market was important to their work as well.
"This was a natural fit for the Pistons to connect with a Detroit-based fashion icon Mia Ray and Glam-Aholic Lifestyle to fill a gap in the women's retail space for Pistons fans," Bilal Saeed, Pistons vice president of brand and marketing strategy, says. "We're always trying to expand our retail offerings for all our fans, but there was a real need for fashion-forward bags. In our minds, there was no one better to represent this space for us than Mia Ray and Glam-Aholic Lifestyle and no better time to launch the products as we celebrate 313 Day."
Ray, who grew up on Dexter in Detroit, became a Piston season ticket-holder last year.
"I've been going to the games, so I know a lot more about basketball," she laughs.
Ray says that she is hoping that her Glam-Aholic brand and the Detroit Pistons can grow into a lifelong collaboration.
"I pray these bags can be a staple in the arena," she says. "It is an honor to work with the Pistons and this collab is something that I hold near and dear to my heart."
Coming soon: Metro Times Daily newsletter. We'll send you a handful of interesting Detroit stories every morning. Subscribe now to not miss a thing.

Follow us: Google News | NewsBreak | Reddit | Instagram | Facebook | Twitter