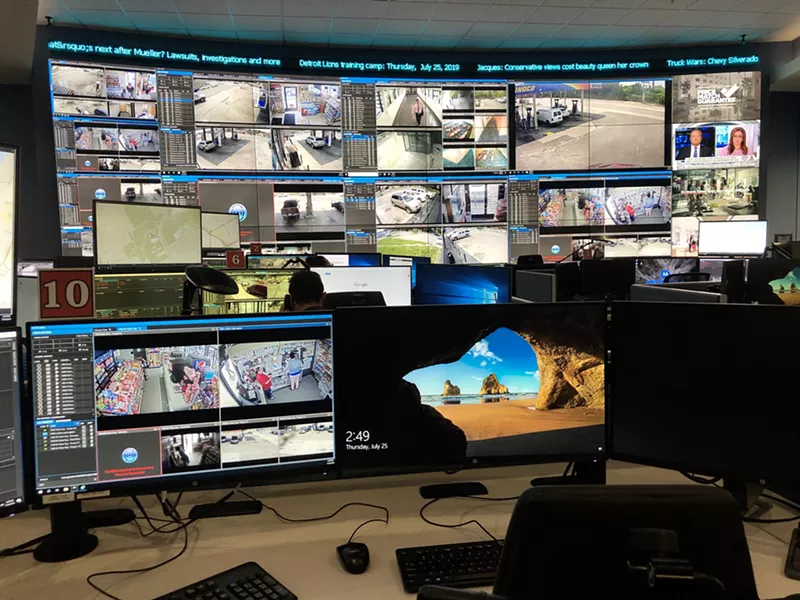 Democratic lawmakers on Tuesday reintroduced legislation in the U.S. House and Senate that would ban facial recognition technology on the federal level and withhold money from state and local police departments that continue to use it.
U.S. Rep. Rashida Tlaib, D-Detroit, was among eight members of the House to introduce the
Facial Recognition and Biometric Technology Moratorium Act
.
It's the third year in a row that the House and Senate introduced the bill, which never advanced to a vote.
Tlaib denounced the technology as unconstitutional, unreliable, and racially biased.
"Facial recognition is a racist technology that is being used in our neighborhoods to invade privacy, surveil, and criminalize," she said. "In the City of Detroit, facial recognition has already falsely identified our residents, making them suspects in crimes they did not commit. This technology is making us less safe. I am fighting for a ban on the use of facial recognition technology and am proud to co-lead this important legislation to put in place a moratorium on its use."
If approved, the bill would have a substantial impact on the Detroit Police Department, which uses facial recognition technology.
Detroit's facial-recognition software is especially pervasive because it's used on a quickly expanding surveillance network of high-definition cameras under Mayor Mike Duggan's Project Green Light, a crime-fighting initiative that began in 2016 at gas stations and fast-food restaurants. Since then, the city has installed hundreds of surveillance cameras at parks, schools, low-income housing complexes, immigration centers, gas stations, churches, abortion clinics, hotels, health centers, apartments, and addiction treatment centers.
On at least two occasions, Detroit police arrested Black men after the technology
incorrectly flagged
them as a suspect.
Facial-recognition technology has come under increasing fire after studies have shown that the software misidentifies people of color more often than white people, which
Metro Times reported in a cover story
in July 2019.
"Facial recognition technology is not only invasive, inaccurate, and unregulated but it has also been weaponized by law enforcement against Black and Brown people across this country," U.S. Rep. Pramila Jayapal, D-Wash., said. "That's why I have long called on government to halt the deployment of facial recognition technology, and it's why we need to immediately take additional steps to evaluate its effectiveness. This legislation will not only preserve civil liberties but aggressively fight back against injustice by stopping federal entities from irresponsibly using facial recognition and biometric surveillance tools."
Despite backlash from Detroit residents, the
city council extended a contract
with the company that provides the facial-recognition software in September 2020.
In 2019, the Detroit Board of Police Commissioners approved a policy to govern the use of facial recognition technology. Under the policy, facial recognition identification is considered only a lead and cannot be used as the sole basis for an arrest. Police are prohibited from using the technology for immigration enforcement, minor crimes, and identifying people during protests, and police analysts must verify any facial recognition matches the software produces and get it approved by a supervisor.
Dozens of advocacy organizations endorsed the bill.
"Facial recognition has continued to harm vulnerable communities and erode our privacy, making this legislation more important than ever," said Caitlin Seeley George, campaigns and managing director of Fight for the Future, a digital group. "There have been more cases of misidentification leading to wrongful arrest of Black men and more surveillance of people exercising their right to protest; databases of peoples' most sensitive information have been breached, exposing irreplaceable data to bad actors; and more government agencies, from the IRS to the TSA, have adopted facial recognition to track our every move. We cannot afford to wait any longer to put this invasive technology in check, and any lawmaker who claims to care about privacy and justice must prove it by supporting this legislation."
Documents revealed this week by the ACLU show that
the FBI has tested facial recognition technology on Americans for years
.
Coming soon: Metro Times Daily newsletter. We'll send you a handful of interesting Detroit stories every morning. Subscribe now to not miss a thing.

Follow us: Google News | NewsBreak | Reddit | Instagram | Facebook | Twitter