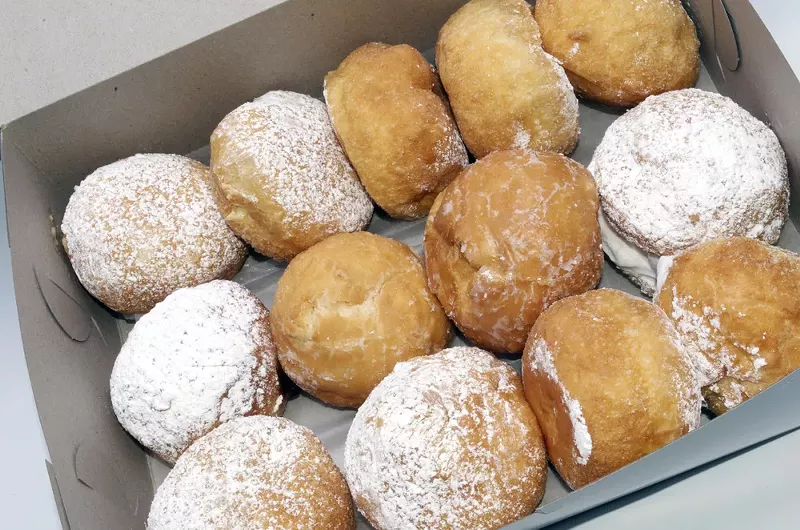 Every stoner knows all to well that cannabis makes food taste better. We can only imagine what delicious paczki would taste like while under the influence of the muchies.
Well, there's an opportunity coming up. Oak Park's Star Bakery has teamed up with a number of metro Detroit dispensaries to give away free paczki on Fat Tuesday for the ultimate Mardis Gras indulgence.
Puff Cannabis is giving away 2,000 paczki to visitors starting at 10 a.m. at its Hamtramck, Madison Heights, Utica, and River Rouge locations. The treats are available to visitors age 21 and older starting at 10 a.m. until supplies run out, no purchase necessary.
"This is one of our biggest orders in the history of Star Bakery," owner Stacey Fox said in a statement.
"This gives us a chance to have a little fun and bring some sweetness into the communities we serve, and being able to collaborate with Star Bakery, which has been around for more than 100 years and since 1954 at its current location, makes it all the sweeter," said Puff Cannabis co-owner Nick Hannawa said.
The Puff Cannabis dispensaries are located at 11941 Joseph Campau, Hamtramck; 2 Ajax Dr., Madison Heights; 44825 Van Dyke Ave., Utica; and 11397 W. Jefferson Ave., River Rouge. More information is available at puffcannaco.com.
The Greenhouse of Walled Lake (103 E. Walled Lake Dr., Walled Lake; 833-644-7336; greenhousemi.com) is also teaming up with Star Bakery to give away 500 paczki. The treats will be available to visitors age 21 and older starting at 9 a.m., no purchase necessary.
"We're thrilled to be able to team up with the iconic Star Bakery, which has been around for over 100 years, for Fat Tuesday again this year," Greenhouse of Walled Lake owner Jerry Millen said in a statement. "It's always great to be able to support a local business and to give our customers a fun freebie. Who wouldn't want a Paczki with their pre- roll?"
Coming soon: Metro Times Daily newsletter. We'll send you a handful of interesting Detroit stories every morning. Subscribe now to not miss a thing.

Follow us: Google News | NewsBreak | Reddit | Instagram | Facebook | Twitter