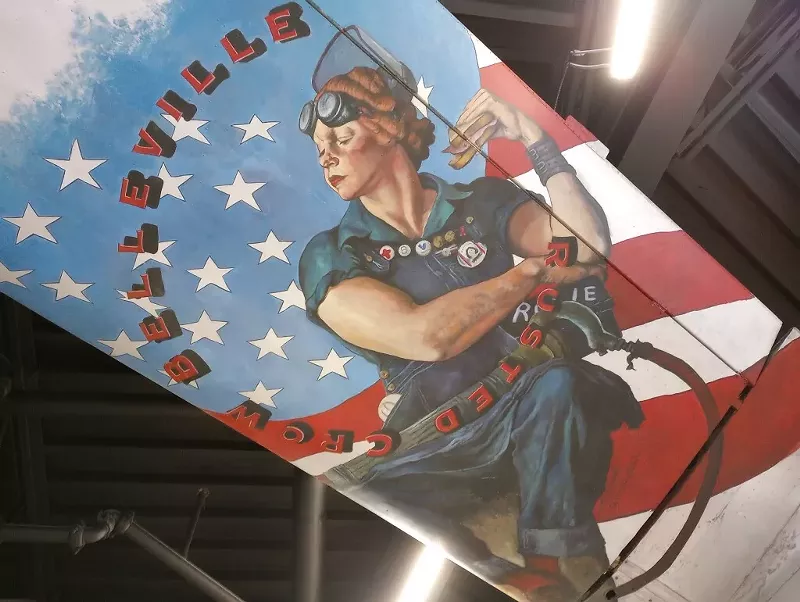 Welcome to Chowhound, a new bi-weekly column and your prandial information portal to what's trending in Detroit food culture. Consider this your new feed for restaurant announcements, au courant culinary conversation, and assorted tasty news nibbles from our local dining front. And, hey, if you've something to share on those subjects, reach out to me, "Mr. C," at [email protected]. Here we go:
Ready to ride the wave to Belleville? Rusted Crow's rolling in: Longtime restaurateur and club owner "Freddy G" Giordano is readying his gorgeous new Rusted Crow, which flew its former downtown Detroit coop to feather the nest you'll need to see to believe, just above Belleville Lake. Doors fly open come mid-March, and Giordano's spectacularly furnished space is somewhere I suspect folks will flock to break bread and make merry.
Talk about shiny objects: An actual plane's hanging inverted in air over the live band lounge, while the dining room's decked out in vintage outboard motors and visually stunning artwork (you can't miss the Katsushika Hokusai "The Great Wave"-inspired wall or pin-up girl murals). From a Rosie the Riveter-uniformed bar staff to an old ship's toilet repurposed for "flushing" down their tips (now there's disposable income!), the concept's a cheeky toast to Americana and waterside society.
Woodworked homages to Ford and Edison afford everyone a good reason to raise a glass, while the water ski bar will undoubtedly start conversations between imbibers who come in to kick it. And what kinds of vittles will Crow cook up to complement all that vibe? Portobello fries ($9) and Portofino-style Mussels ($15) sound promising. Hawaiian-style, buttermilk fried chicken ($13) and a Santa Fe-inspired burger ($15) are sandwiches I'd sink my teeth into. Entrée salads and light pastas, seafood, and steaks frame the dinner fare, while a half dozen house-crafted pizzas (baked slick and quick through Crow's blistering conveyor belt oven) round out the menu essentials.
Boat slips on the lakeshore across the street from the restaurant will welcome the nautical set. Overland access will be easy as well. Take I-94 west to Belleville exit. Turn south and head straight across the water bridge (as the Crow flies, of course). Then look left. You've arrived at a definite destination. Rusted Crow on the Lake is located at 569 Main St., Belleville; 734-325-2941; rustedcrowspirits.com.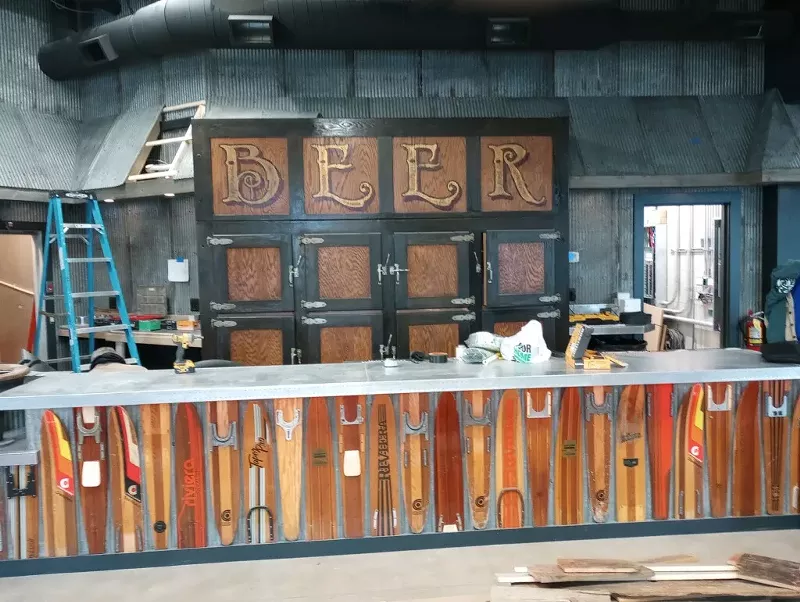 What's in a name? In this case, a great business decision story wrapped in a parable on stellar service. Matt Wiseman, founder and owner of Motor City Seafood, employed some savvy crisis management tactics and an admirable commitment to clients to see his company's existential crisis through a COVID-crippled food economy. Forced to furlough a crew of 17 and face the possibility of business failure, Wiseman and wife Staci rolled up their last four sleeves and went to work doing everything they could to help save others as well as themselves. They got involved in city-sponsored programs to feed Detroit-are first responders, slashed prices for their cash-strapped restaurant clients and dropped order minimums which are standard practice for food suppliers and wholesalers. In short, they delivered just what everyone needed.
"If someone wanted only four orders of scallops we brought it," Wiseman says, for example. "Few could afford cases of salmon, so we sold single sides ("flats")." Along with so many others, Motor City Seafood was just trying to survive. In the end, empathetic choices and gracious accommodation (see also: "service") proved pivotal in helping them thrive. These days, while the recovery continues and remains in question for many, Wiseman now counts among his considerable and marquee restaurant accounts (Joe Muer, Selden Standard, Shewolf, Mabel Gray, Chartreuse, Oak & Reel, et al.), those with whom the tough times were shared and seen through. In a world where current food costs can leave us questioning the possibility of profiteering in some corners of the marketplace, it's nice to know this just wasn't so for folks turning in need to Wiseman; a fish monger who kept things going affordably for his customers when the going got really tough. Kudos.
Botana, burger, and ribs bucket list: Thomas Wolfe was wrong. You can go home again. I did, returning recently to Michigan almost 40 years after my '80s exodus to Arizona, and making a beeline back to three iconic eateries that were there for me then and still serve today: Xochimilco in Southwest Detroit, Miller's Bar in Dearborn (my hometown), and the original Bone Yard BBQ in Dearborn Heights.
Back for my first botana from Xochi's (3409 Bagley St., Detroit; 313-843-0179) in years, I reveled getting reacquainted with what I now recognize as fairly straightforward nachos, reminiscing over the dish's success secret whispered in my ear by the owner way back when, only after an inebriated, heart-crossing promise to take it to my grave. After another taste took me back to munchie-driven days feasting late-night with old friends, the Boneyard (7010 N. Telegraph Rd., Dearborn Heights; 313-561-0102; theboneyardbbq.com) returned me to a booth there circa 1980, when my high school sweetheart and I bathed our lips in barbecue sauce on many a date night before driving off to park somewhere and suck face. And walking into Miller's Bar (23700 Michigan Ave., Dearborn; 313-565-2577; millersbar.com) was like stepping back into boyhood; recalling my aunts' constant complaints about the allure local "beer gardens" held for my uncles. I sat down, made fast friends with Jen the bartender and ordered up a Miller's killer cheeseburger. Between the good grub and gab we social animals seem to have a gift for when gathered at watering holes, I didn't want to leave, either. Jen, Mike the manager, and I talked and laughed long and loud enough to draw more bar customers into the conversation. The guy to my right showed us pictures of his moonshine still. The one to my left talked tequila with us as we poked fun at my ordering the cheap stuff against Jen's advice. We ended up having quite a time together, we five strangers.
My trip down restaurant memory lane reminded me: It isn't what seasons the meals we never forget, it's the memories stirred up whenever we enjoy them again. So, here's a toast-challenge to you and yours. Put a must-do-soon bucket list together and head out to where the food and drink take you back to happy places from years past. Return to them with family and friends. It will leave you feeling good down to your gut. Break bread. Make merry. Tell stories. And catch up. Cheers.
Coming soon: Metro Times Daily newsletter. We'll send you a handful of interesting Detroit stories every morning. Subscribe now to not miss a thing.

Follow us: Google News | NewsBreak | Reddit | Instagram | Facebook | Twitter