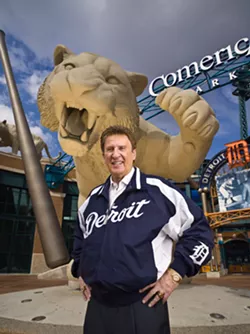 Once upon a time, in a decaying Midwestern city, there was a smattering of neighborhood taverns that all bore the same name and instantly recognizable logo. They served real glass pitchers of beer poured into frosted mugs. On weekends, families gathered at these taverns in such numbers that sometimes there was a line to get a table. Kids would squeeze into booths while their parents watched media mogul John E. Fetzer's Detroit Tigers baseball on a projection TV the size of a Chevette (a popular car of the era, and if you remember the car you know that the screen size is no exaggeration).
The main draw of these taverns was the pizza: aromatic and inch-thick, with cheese that would stretch for yards as a server called a "waitress" would pull a slice from the pie with a spatula.
These friendly taverns were called "Little Caesars," and I still remember how great that pizza was. Yes, it was the same Little Caesars. The same Little Caesars whose head honcho Mike Ilitch went on to purchase the Tigers. The same Little Caesars that is now a veritable kiosk for some sort of NASA-created, geometric nutrition substitute that materializes in seconds, as if the kid behind the counter has a Star Trek replicator, and can be yours immediately after you go through the agonizing process of choosing from the Asimovian list of three varieties, in your choice of round or square. If you've ever been stranded on a desert island with a thin stack of 3-by-5 index cards, stained them with your own salty blood, adorned that with strips of long-deceased jellyfish, and consumed it, then Little Caesars Hot N Ready "pizza" is almost comfort food.
If you've managed to skip that experience, you are buying a lot of convenience and very little in the way of cuisine. But that product is profitable. Extremely profitable.
You know what other iconic American product can be sub-par, barely palatable, and still turn a profit that will have an accountant canceling his Cialis? Baseball. And that's why Ilitch's scares me like a libel attorney scares Alex Jones.
The Macedonian mangia magnate made certain that the team would remain in his family long after a computer has crashed your first autonomous vehicle, but is the baseball fanatic, "Steinbrenner West," whatever-it-takes-to-win mentality that the senior Ilitch possessed something that can be signed over in a will?
'You know what other iconic American product can be sub-par, barely palatable, and still turn a profit? Baseball.'

tweet this
"Mr. I" (as he is remembered on his team's memorial patches) ground his check-signing pen down to a nub acquiring coveted free agents or trading for guys that had (or were going to command) huge contracts. He played baseball at the minor league level, and, unlike the dad who drags his kid to the batting cage every weekend to live out his unfulfilled dreams vicariously, he bought an entire franchise and shot money at his dream like it came from a confetti cannon.
Ilitch's son Chris is now at the helm. He can't possibly be expected to share his father's passion for the game of baseball, and his previous responsibility was Little Caesar's pizza kits. Little Caesar's pizza kits are fund-raising devices, shit that you make schoolkids sell to guilt-ridden relatives so they can go on field trips to the zoo, where the Ilitches have a stake in the concessions. So while there are no strong indications that the scion will mismanage the day-to-day operations of the team, a guy with that background might be inclined to say: "Who cares if we're 15 games out of first at the All-Star break? If the kids are dumb enough to peddle raw dough, they'll be content to ride the Ferris wheel."
While that's conjecture, the fact is that Mike Ilitch raised his kids to be businesspeople, not ballplayers. (Although he did allow one son, Atanas, a hilariously ill-wrought foray into a music career.) So expect the younger Ilitch to run the team like a business. And the business aspect of the game in this era simply doesn't demand on-field excellence.
Take the Houston Astros: Owner Jim Crane bought the team in 2011 and gutted the payroll. In 2013, the Astros had the worst record in baseball since 2005, and, according to Forbes, were the most profitable franchise in the history of baseball. They were the "Springtime for Hitler" of professional sports, and Crane pocketed a whopping $99 million, mostly in guaranteed television revenue. There is simply no need for the younger Ilitch to risk paying into baseball's luxury tax like his father did (twice, in 2008 and 2016) to produce a winner. In purely financial terms, there is no need to pay guys like Miguel Cabrera and Justin Verlander, because their on-field success doesn't necessarily translate into financial success any more than having the flashiest sports car means you'll leave the nightclub with the most attractive person. Plus, the "been there done that" Comerica Park now has to compete with Little Caesars Arena, its younger, hotter neighbor to the north for Detroit's entertainment dollar.
Of course, Chris Ilitch is also involved with "The District Detroit," the Ilitch organization's slightly Huxleyian concept for Detroit's entertainment mecca, and that of course includes Comerica Park. While the fulfillment of that concept has chased out storied Detroit gems like the late beloved prankster Dan Meder's Comet Bar, to make "The District" work, Ilitch is going to have to bring more people downtown — and the easiest way to do it is by building a winning baseball franchise. (Comerica has more than twice the capacity for baseball as the arena does for hockey and basketball, and its 81 home games a year are almost what hockey and basketball provide combined in the regular season). It's not likely that we'll ever again see a Little Caesars with beer on tap, but if the younger Ilitch can tap into his father's passion — and his wallet — we can hold out guarded hope for a baseball franchise that relives the glory years of 1968 and 1984 and doesn't devolve into a barely digestible mess like the once-great pizza did.