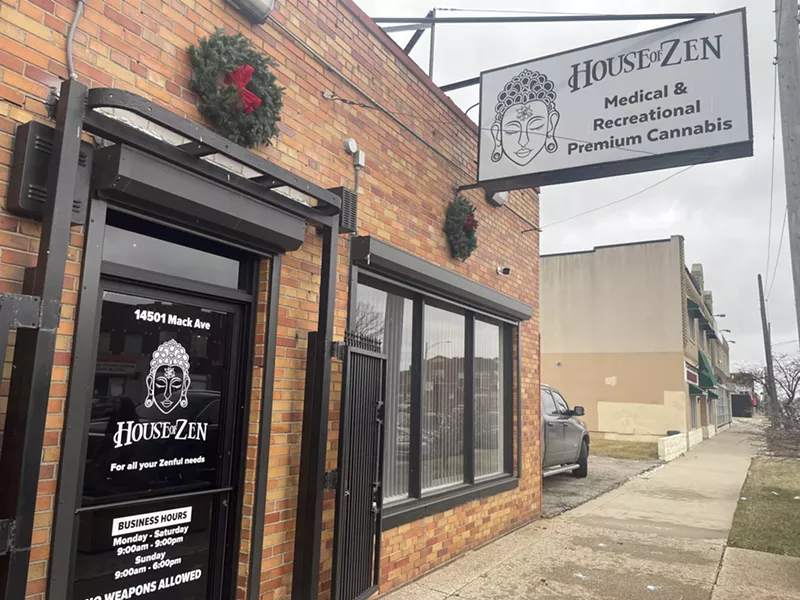 Detroit's House of Zen was abuzz with excitement on a cloudy Friday afternoon.
Laughs and friendly chatter filled the cozy cannabis dispensary at 14501 Mack Ave. as it began recreational cannabis sales for the first time. Teri Hargrave, who owns and operates the shop with her sister Jacquline Weathersby, comes from behind the counter to greet us with a wide smile.
The Black sisters were born and raised on Detroit's Eastside and have been in the weed business since 2016.
Hargrave says business at House of Zen began to slow fizzle after recreational cannabis sales were legalized in Michigan in 2018 because people weren't renewing their medical cards. While many other municipalities successfully passed recreational cannabis ordinances allowing sales, things lagged in Detroit as the city battled lawsuits for trying to put longtime Detroiters first. After a revised ordinance and more lawsuits, we have finally arrived.
"It was just dead for us here in the city, because people could just go to the suburbs and buy with just their license," she tells us. "We were really struggling for a while and we're hoping that's gonna turn around now. We really appreciate the fact that councilman [president pro-tempore James] Tate, the city council, and our mayor made sure that Detroiters had an opportunity in this industry. It's so important because it gives us a chance for ownership, to build some type of wealth and give back to our communities."
A judge halted the city's original ordinance and deemed it "likely unconstitutional" for giving preferential treatment for licenses to longtime Detroiters in 2021. The revised ordinance that was passed in late 2022 resolved the issue by using separate tracks for equity applicants that are actual Detroit residents and non-equity applicants.
Hargrave blasts large companies who held up the process by suing the city, saying outsiders come to Detroit expecting to dominate leaving little room for locals to compete.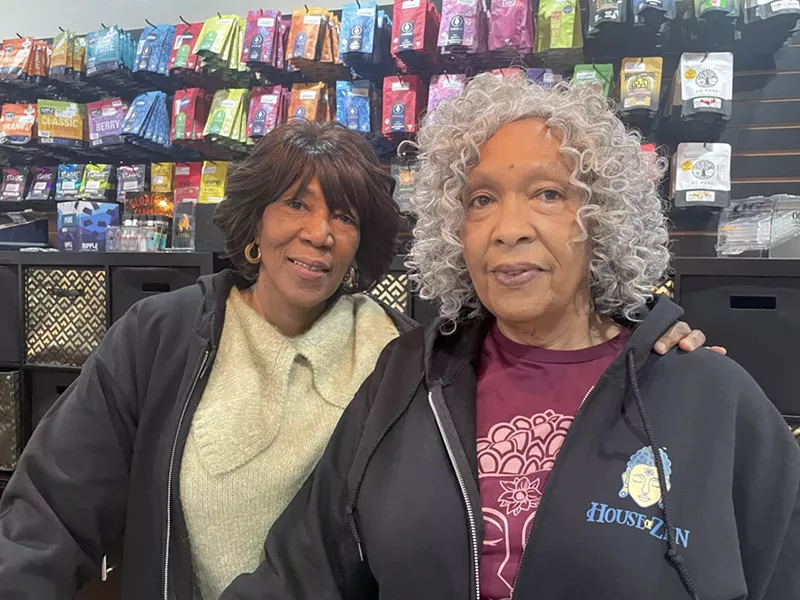 "They kept suing and suing saying it wasn't fair to them but actually, it wasn't fair to us," she says. "We live in the city, and we should be able to have a part in this industry. Of course, [large companies] have most of the money. We didn't have the resources they had, so the city was fighting for us to have a chance. So many people went to jail for marijuana and we suffered the most but they didn't want to even give us a little piece. We weren't asking for all of it, we were just asking for half."
In the first round of approvals, the city made 20 licenses available for equity applicants and 20 for non-equity applicants. In December of 2022, 20 equity licenses were approved along with 13 non-equity licenses.
Hargrave and Weathersby decided to open the shop after seeing how weed helped Hargrave's husband. He was prescribed medical marijuana to ease his pain after being diagnosed with terminal lung cancer. Weathersby was his caretaker.
"I never knew the benefits of medical marijuana until I saw my husband benefit from it," Hargrave explains. "So after he passed away in 2014, my sister really wanted to open a dispensary and have a place where people can come in our community and get their medication in a safe environment. So we tried it."
Weathersby is no longer a caretaker but wants to eventually expand House of Zen with its own grow facility.
"It's just fun," she says about growing cannabis. "But I have to get the rest of the family in on it because that's what's important is that we're doing this as a family."
Other shops that have begun selling recreational cannabis in Detroit include DaCut at 12668 Gratiot Ave., Cloud Cannabis at 16003 Mack Ave., and House of Dank at 3340 E. Eight Mile Rd. DaCut and Cloud are also equity license awardees.
For more info about House of Zen, see houseofzendetroit.com.
Coming soon: Metro Times Daily newsletter. We'll send you a handful of interesting Detroit stories every morning. Subscribe now to not miss a thing.

Follow us: Google News | NewsBreak | Reddit | Instagram | Facebook | Twitter