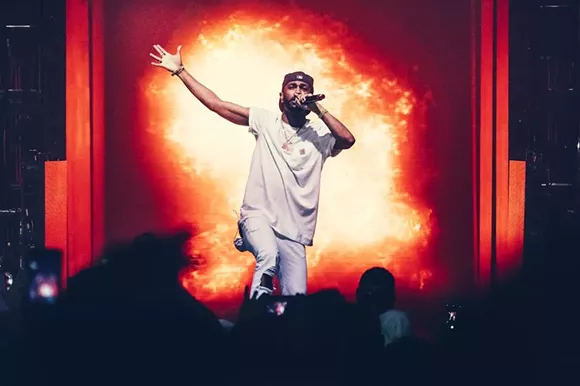 Sean Anderson, better known as rapper Big Sean, had a big day yesterday. In the morning,
Mayor Mike Duggan gave the rapper the key to the city
. The only other Detroit musicians to be honored that way have been Stevie Wonder and Motown mastermind Berry Gordy.
Then, last night, Anderson blew the roof off the Fox Theatre with a sold-out show and a setlist that proved his place in modern rap history and his status as Detroit's current representative on the mainstream rap scene. After the show, it's hard to scoff at Anderson being placed alongside Wonder and Gordy (he even cited Gordy as an influence on his latest album
I Decided
).
"I've been waiting my whole life to come to the Fox Theatre and see this," Anderson said from the stage. "It feels like I'm at a goddamn barbecue!"
Anderson's setlist spanned his career, reminding the audience that almost every club banger of the past six years has had a Big Sean presence. From Kanye West classics like "Mercy" to Drake's "All Me," Anderson has been all over mainstream rap in a way a Detroit artist hasn't before, and the peppering of hits alongside his solo work made that abundantly clear. Even Eminem, at the height of his popularity, was a polarizing figure who didn't often hop on popular tracks.
Placing those older tracks into the setlist also crystallized how significantly Anderson has grown as a solo artist. His vocal performance was aggressive and tight. He never let the backing track do the work, and brought it all on furious a capella verses like the outro to "Sacrifices."
Anderson's solo work let him show off his range of emotional control. For slower songs like "Halfway Off the Balcony," he would stand alone at the mic, smoothly transitioning from introspective singing to furious spitting. The fact that the show was so loud the floor of the Fox was noticeably swaying was a nice touch.
Toward the end of his set, Anderson stopped to address how serious it felt to come home to a sold-out show — one that he said sold out in 30 minutes.
"I'm proud of the renaissance of Detroit," he said. "A lot of people lost faith in us, but we never lost faith in ourselves."
If anything encapsulated how Anderson is the quintessential modern Detroit rapper, it was the fact that he rocked three gold chain silhouettes of the state of Michigan on top of a Carhartt white tee.
He ended the show with "I Don't Fuck With You" and "Bounce Back," his two biggest songs in years, by thanking his family for getting him onto the stage, and reaffirming his commitment to the city.
"I have to say some real shit while I've got this platform," he said. "I feel like I have a responsibility to do my best to give back to Detroit. My grandma was a female black captain in World War II. My momma was a teacher. They used to bust their ass to pay for studio time, to save up money for school. I took a fuckin' risk by doing this music thing. I knew I wanted something better for them."
MadeinTYO opened the show. Check out
Metro Times
' interview with him
here
.