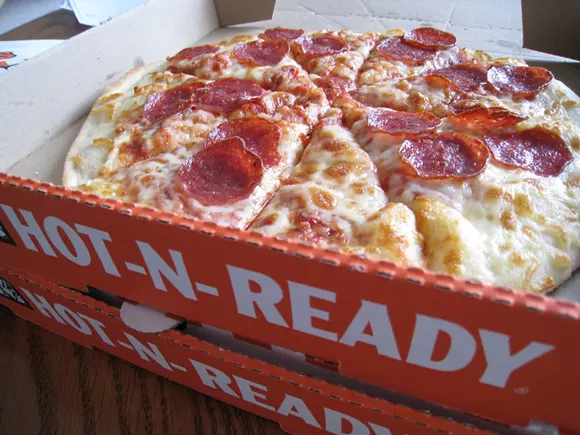 On Tuesday, Ford announced a $1.2 billion investment Michigan, which would see the modernization of some of its plants and the creation of a new data center.
As usual, President Donald Trump
took to Twitter
to apparently take credit for the move — even though the investments can be traced back to 2015 negotiations between Ford and the United Auto Workers.
Big announcement by Ford today. Major investment to be made in three Michigan plants. Car companies coming back to U.S. JOBS! JOBS! JOBS!

— Donald J. Trump (@realDonaldTrump) March 28, 2017
It's a pattern that has
played out many times already
during Trump's presidency: the auto industry makes an announcement in U.S. investments and
Trump takes credit for it
, even though the deals were in the works long before he took office.
In response to this, the Michigan Democratic Party has come up with the perfect analogy to explain Trump's behavior — one that is easily understood by anyone in metro Detroit. It involves the humble Little Caesars Hot-N-Ready.
"Donald Trump taking credit for Ford's latest investment in Michigan is like a kid telling his friends he made dinner when his dad picked up a Hot-N-Ready from Little Caesars,"
says Brandon Dillon
, Chair of the Michigan Democratic Party.
"These investments are the result of collective bargaining between UAW and Ford in 2015, made possible by President Barack Obama's faith in America's auto workers," he continues. "Donald Trump is the most anti-worker occupant of the Oval Office we've ever seen, and the American people are no longer buying his con game. The fact that someone who's supposed to be the president of the United States has no accomplishments of his own, and feels the need to take credit for someone else's, is a joke."