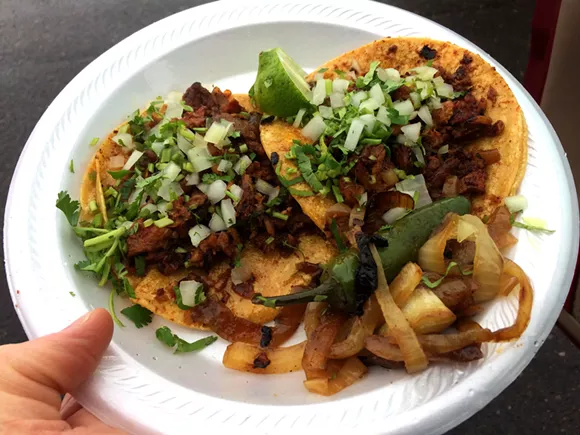 There are so many ways that tacos al pastor seem to go wrong. The meat is cooked into dried crumbles. They're a mouth full of straight fat. They're grease bombs. The flavor is thin. The texture is rubbery. The tortilla could be used to refinish furniture.

That's why you need to seek out the tacos al pastor at the El Parian taco truck on Vernor in Southwest Detroit. Parian's marinated pig is slightly sweet, moist, and totally flavorful, holding the brightness and depth that its local counterparts often lack.

That's partly attributable to Parian charring its pork and carving it from a spinning trompo, a Mexican spit similar to what we usually see used with gyro meat. That gives it the right and proper texture and flavor, though utilizing the the trompo is a semi-rare practice in Detroit as many seem to lamely favor the griddle.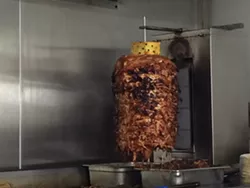 Parian's al pastor is also heavily laced with caramelized onion, covered with the requisite layer of diced onion and cilantro, folded into a warm corn tortilla, then served next to more caramelized onions and a grilled jalapeno. Don't forget the acidic marinated onions, carrots, and radishes.
And it would be difficult to convince me that there's a better spot in Detroit to sit on the curb on one of the first warm Fridays of 2017 and eat dinner. An El Parian truck posts up in the parking lot of one of the nondescript, cinderblock party stores that populate the city, far from New Detroit. It sits across the street from the yet-to-be renovated art deco Stratford Theater, as well as a little ice cream shop from which kids drinking aguas frescas stare out the window at people eating tacos on the curb. Men on souped up, custom Schwinns meet at the corner of the Vernor Highway and Ferdinand St. as the sun goes down and one considers the consequences of a fifth and sixth taco.

(Another El Parian truck is usually parked at the corner of Vernor Highway, Waterman Road, and Dix Street.)