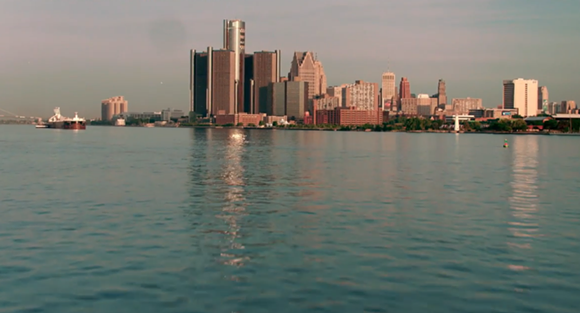 Several weeks ago,
we wrote about
a National Geographic Channel series that partly explores the corruption and decisions that led to the Flint water crisis and Detroit water shut offs.
The Detroit/Flint episode, called
Parched: Money Flows
, is the first in the three-part series on the nation's various water issues, and it airs Tuesday at 10 p.m. on the National Geographic Channel.
We spoke with the episode's director,
Jed Rothstein
, (Killing In The Name) an Oscar-nominated documentary filmmaker whose work covers a range of social issues and unique stories of extraordinary people in challenging situations around the world.
While there are some who are widely regarded as villains in the Michigan water dramas, Rothstein focused not so much on the people, but the philosophies and decisions that led to situations in which residents were left drinking poison water, or no water at all.
(Check out a review of the episode
here
.)
MT:
Why did the Flint/Detroit water stories interest you?
Rothstein: What was really interesting to me when the series came up ... was looking at water through the prism of money. We know there's a shortage of water, a lack of water, and the question is 'How do people take care of it and preserve it?' What's less talked about is a place like Michigan where there's plenty of fresh water, but the question is 'How do we allocate resources to get it to people, and keep it clean and safe?' It was an unusual way to look at this important resource that everyone must have everyday ... and the choices we make as a society to make sure that people have it.

For people to be denied a basic resource, especially when the entire water system is so broken and riddled with malfunction, struck me as a question of 'Are we as a society making the wrong choice about what's important?' I don't think it's something that could be blamed on one person or one institution ... but there's a larger story of societal choice and looking at how we got to this point where tens of thousands of people, children, and elderly people were denied a very basic resource so the city could continue to make bond payments.

I understand the complexity from the people running these systems, and I don't want to lay it on them ... but when you have so many people in need of water, then you made the wrong choice, no matter however you arrived at it."

MT: There's a version of events here that says that Detroit's poor and lazy residents are responsible for water shut offs because they didn't pay their bill. You tell a different, and more accurate, story. Talk about what you found.

Rothstein: What really seemed like the root cause is years of neglect of this important water system …coupled with decades of financial mismanagement that put Detroit in a very difficult position. It didn't have enough money to pay for required maintenance for a system that provides water for the city, so the city raised the rates.
Renee ( Detroit resident featured in the film) was working to the bone, working almost every waking hour, and was paying her bill, but because the system was broken .. her water was turned off, and the drains weren't being properly maintained, s0 there was flooding in her basement. And it was because of an enormous bill leftover from a previous landlord who sold her the house. That's the antithesis of 'These people aren't paying bills.' They're doing everything right.
It struck me as a question of society making the wrong choice about what's important."

MT: Talk about your experience with Renee and her children.


Rothstein: I meet people like Renee t
oo rarely, and I'm inspired by their relentless positivity, selflessness, and
perseverance. One scene that could've been a small, offhand thing was, at one point, we were filming with her driving to work, and she pulled up to a
stoplight
and saw this man sitting on th street corner. She asked him to come
over and
gave him some food ... while her own resources were stretched thin. She didn't do it because we were there or she was showing off. I
t's just her way."
MT:
How does Wall Street factor into the water crises?
Rothstein:
Essentially, the emergency managers in Flint and Detroit, generally speaking, have a fiduciary obligation to pay bondholders. So when you have a municipality with big financial problems, and (emergency managers) try to right the ship ... they prioritize fiscal responsibility over social responsibility. In the process, you have a situation where bondholders have to be paid ... and they prioritizes financial correctness over humanitarian correctness."
MT:
Did you sense any regret in former Detroit Water and Sewerage Department director Sue McCormick, who first ordered the shut offs? Or in former Detroit Emergency Financial Manager Kevyn Orr?
Rothstein: "Kevyn Orr believes that he did the best
that he could for the people of Detroit and left the city in better shape than he
found it. He seemed like he thought it was very unfortunate that they had to make some difficult decisions like turning off the water,
for example, but it was a necessary part of what he felt he and his crew ha
d to do to bring Detroit back from the brink.

I'm sure he
believes
that. I don't
doubt
his sincerity. My question is 'What
is the nature of our system that allows us to think this seems like an intelligent, OK course of action?'
As for Sue McCormick, she's a person who is basically a high ranking civil servant who is faced with this very difficult task to make tough choices and decide what's the best way to do it. I think she was uncomfortable with having to discuss that people had to suffer because of Water Department decisions to shut off water.
It's not like she makes some personal profit by doing that ... I think that there are terrible and selfish who people who are out to hurt others, and I don't think I met those people on this film, but there's the larger question of 'How we should perhaps referee municipal finance, change the baseline assumptions about what is permissible and tolerable for financial risk by cities, and how we should consider the idea of fresh water as a human right?'"
See a trailer for the episode here.