See 12 photos from Maty's here.

You could be forgiven for not having yet tried — or even heard of — Maty's African Cuisine. The city's only Senegalese restaurant opened a month ago on Grand River Avenue just north of McNichols, but most of Detroit's food writers seem too focused on downtown or Ferndale to notice. And while there's worry about food deserts in Detroit's outer neighborhoods, the northwest part of town is home to a growing number of restaurants serving deeply flavorful dishes.
Maty's in Old Redford is one such spot. Stepping into the plain shop in a strip of Grand River storefronts, one expects a meal that's something totally new in the city. Owner Amady Gueye took over the restaurant (which was to be called La Galette) from a friend who set it up but never opened the doors, so there's no recent Senegalese precedence in Detroit. Thus, it's likely going to take a transplant or someone well-traveled to seek or identify the tastes of yassa, dibi, and Senegal's other dishes.
And yet, for cuisine that — in theory — is so unusual in Detroit, the suite of flavors in Maty's jumbo portions of meats and fish alludes to something familiar. That's due in part to some ugly geopolitical forces like colonialism leaving their mark. It's also partly attributable to the West African nation's proximity to tastes more common in our city. One can find traces of French, Arabic, and even Vietnamese cuisine in Senegal's food, but the most obvious connection is to Caribbean dishes. So bites of Gueye's charred lamb shanks ramped up with zinging, acidic marinades and hot peppery sauces, for example, are reminiscent of some other plates in town, even if it is something new.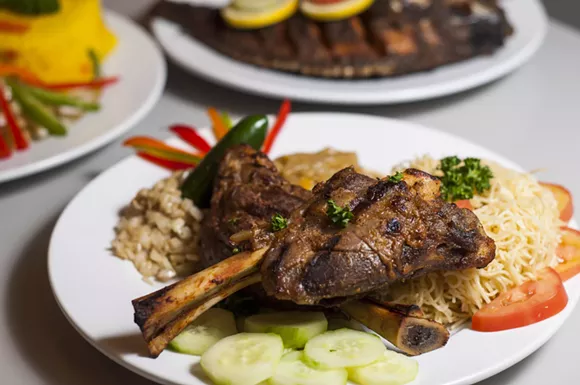 For the time being, you choose from a short list of dishes available each night, though it appears there's some rotation. In fact, there wasn't a physical menu when we arrived, but it's almost complete. Instead, Gueye asked if we preferred a whole chicken, whole fish, lamb shoulder, lamb shank, or a shawarma. We took one of each, and discovered that there are no wrong turns on Maty's menu.
A good place to start is the fish, which the Senegalese usually cook whole, often with mustard, onion, vinegar, pepper, and a few twists, depending on who and where it's prepared. In Gueye's kitchen, it's a whole grilled tilapia that gets the treatment. After peeling and eating the flaky top layer off the bones, you'll find the second slab of charred fish underneath, a little sloppy and saturated in the mustard-onion sauce. It's these bites that ignite the pleasure circuits and lead to endorsements via moans and groans of approval — a clear high point in a meal packed with them.
The aforementioned flavor of mustard powder, onions, and vinegar should be noted as it anchors many Senegalese plates. Even when your dinner isn't marinated overnight and cooked in it, it'll work its way in. Dishes typically arrive with one of three forms of mustard, vinegar, and pepper marinated onions — one of chopped, slightly sweet caramelized onions; another of similar but crunchier and hotter slices; and one version of the mix that's served next to the fish and jumbled with bell peppers. Gueye says around 75 percent of Senegal's dishes are cooked in or served with the combo, and you'll want to mix and match with the accompanying hot pepper sauce to assemble even better bites.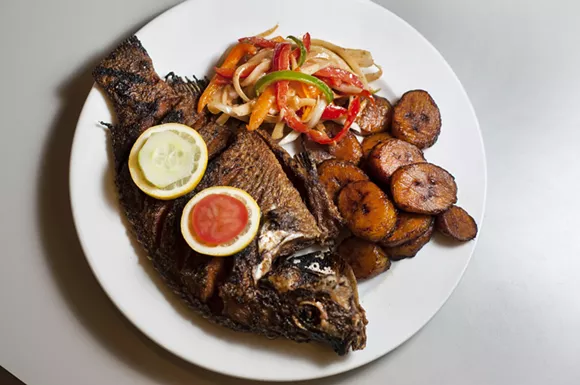 Moving to land, the whole salty and garlicky chicken (neck on) is first deep fried super crisp, then char grilled to remove the oil and develop another dimension. Gueye stuffs the bird with minced garlic, parsley, and onion that permeates the meat, and, of course, you'll want to liberally add in the onion mix. It's all served with couscous, which is one of the few wheats/grains on otherwise meat, fish, and veggie-heavy plates.
In its michui, another Senegalese standard, Maty's substantial charred lamb shanks call for the vinegary onions, which stimulates the already glorious combination of lamb fat and char meat. Like the chicken, the lamb cooks twice — but it's done once over charcoal, and a second time on the flat grill following a rub of spices. A second lamb dish, dibi, is similar, but composed of a small mound of fatty lamb shoulder hunks laced with mustardy-onions. The former is the better of the two if it's lamb that one seeks, though that's mostly a matter preference. If you're not as hungry, try the french fry-stuffed beef or chicken shawarma, as both are exceptional as sandwiches go, though it pays to be a little more adventurous at Maty's.

Finally, there are the drinks. The juice of the coconut-sized baobab fruit arrives mixed with milk and other spices to make up a sweet concoction not unlike a pineapple-banana smoothie, and the sorrel and ginger juices are straightforward and refreshing. We got one of each menu item — dishes and drinks — for $65, which is a basement bargain deal for this caliber of cooking.
Gueye tells me there's a growing Senegalese population in northwest Detroit, though he's the first to trade in the country's cuisine. If the steady stream of customers on the off nights are any indication, there's already real interest in his cooking, though most are speaking French or Wolof, Senegal's main languages. But it's only a matter of time before word spreads in English.